Grilled Chicken Veggie Kabobs

Courtesy of Sharone Hakman (SharonHakman.com)
Serves 4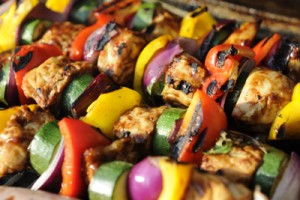 INGREDIENTS
For the Marinade
1-1/2 cups (12 ounces/350 ml) Greek yogurt

4 to 6 cloves garlic, peeled and minced

1 shallot, peeled and minced

1 tablespoon (15 ml) fresh oregano

2 lemons, for juice (plus reserve zest of one lemon)

1/2 teaspoon (2.5 ml) salt, or to taste

1 tablespoon (15 ml) honey

3 tablespoons (45 ml) olive oil (or more if needed for consistency)

1/2 teaspoon (2.5 ml) smoked paprika

1/4 teaspoon cayenne pepper, or to taste

Pinch ground coriander
For the Kabobs
2 chicken breast halves (boneless, skinless) cut into 1-inch (2.5 cm) chunks

1 large red onion, peeled and cut into 8 wedges

4 large crimini mushrooms, brushed and cut in half

1 large red bell pepper, cored and cut into chunks

1 large green or yellow pepper, cored and cut into chunks

4 to 6 (10 to 12 inch/ 25 to 30 cm) wooden skewers (pre-soaked in water)
INSTRUCTIONS
In a medium bowl, combine all marinade ingredients and mix thoroughly. The marinade should be thick, but pourable; if needed, add more olive oil to thin it. Set aside.
Assemble the kabobs. Divide the ingredients into four portions and thread them onto skewers, alternating ingredients to be sure each skewer has a full assortment of peppers, onions, mushrooms, and chicken.
Snip the sharp tips off the skewers with kitchen shears when you are finished.
Put the skewers into a baking pan or gallon zip-closure pouch and pour the marinade over them, turning to coat on all sides. Cover or zip the bag closed.
Refrigerate and marinate the kabobs for at least 30 minutes and as long as over night.
Meanwhile, fill and preheat the water oven to 146F/63.5C.
Remove the kabobs from the marinade, wiping the excess gently away, and vacuum seal one (or at most two) skewers in a large (gallon/3.8 liter) cooking pouch. Take care not to let the skewer pierce the pouch when sealing.
Submerge the pouches in the water oven and cook for at least 1 hour. (Up to 2 hours will not affect the texture.)
Preheat an oiled grill or grill pan to high heat.
Remove the kabobs from the pouches, pat them dry with paper towels, and sear over the high heat for 30 to 45 seconds a side, turning often until every side is seared.
Serve.