Barbecue Bacon Burgers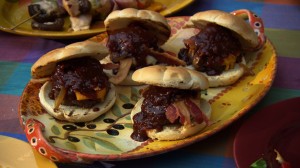 Courtesy of Sharone Hakman (SharonHakman.com)
Serves 4
INGREDIENTS
1 pound ground chuck or sirloin

Salt and pepper to taste

1 large red onion, peeled and thinly sliced

8 slices bacon, cooked crisp and drained

4 slices (1 ounce/28g each) cheddar cheese (or your favorite sliced cheese)

1 bottle (12 ounces/360 ml) HAK's Barbecue Sauce, or your favorite brand

4 standard burger buns or 8 slider buns
INSTRUCTIONS
Fill and preheat the water oven to the desired degree of doneness (134F/56.5C for medium rare, 140F/60C for medium, 150F/65.5C for medium well.)

Divide the meat into 4 portions for burgers (8 for sliders) and pat each portion into a firm patty 

shape.)

Season each side of each patty with salt and pepper to taste.

Put the patties into a zip-closure bag and into the freezer for about an hour or two to firm them, so they will hold their shape when vacuum sealed.

Put the patties into a large (gallon/3.8 liter) cooking pouch and vacuum seal them.

Submerge the pouch into the water oven and cook for 1 to 6 hours.

Meanwhile, in a skillet over medium heat, sweat the onions in the olive oil and let them caramelize to a golden brown, stirring as needed to prevent them from burning.

Preheat an oiled grill or grill pan to high heat.

When ready to serve, remove the burgers from the pouch, pat them dry with paper towels, and sear them 30 to 45 seconds on one side.

Flip the burgers, top with cheese, if desired and sear another minute or so to melt the cheese. Toast the buns along side, if you desire.

Spread barbecue sauce on the toasted buns, add the burger patties, top with bacon and onions and more barbecue sauce, and enjoy!