Herb Rubbed Ribeye Steaks

Courtesy of Sharone Hakman (SharonHakman.com)
Serves 4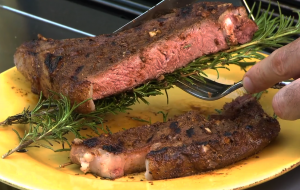 INGREDIENTS
1 bunch (6 to 8 sprigs) thyme, minced, woody stems discarded
4 sprigs rosemary, leaves minced
4 to 6 cloves garlic, peeled and minced
2 teaspoons (10 ml) kosher salt,
1 teaspoon (5 ml) coarse black pepper
1 teaspoon (5 ml) ground thyme
1 teaspoon (5 ml) garlic powder
1 teaspoon (5 ml) paprika
1 teaspoon (5 ml) ground coriander
1 teaspoon (5 ml) chili powder
2 tablespoons (30 ml) softened butter or olive oil.
2 rib eyes, bone-in, 1-1/2 inches (3.8 cm) thick
INSTRUCTIONS
Fill and preheat the water oven to desired degree of doneness (134F/56.5C for medium rare, 140F/60C for medium, 150F/65.5C for medium well.)
In a small bowl, mix together all ingredients, except steaks, stirring until well blended.
Spread the rub over all surfaces of the steak and massage into the meat.
Put each steak into a small (quart/.9 liter) cooking pouch and vacuum seal.
Submerge in the water oven and cook for at least 1-1/2 hour and up to 8 hours (the longer the
better for leaner, tougher steaks, such as from bison or grass fed cattle)
Remove pouches from the water oven.
When ready to serve, preheat and oil a grill or grill pan over high heat.
Remove the steaks from the pouches, pat their surfaces dry, and sear over high heat for 30 to 45 seconds per side to impart color, flavor, and grill marks.
Serve.