Sous Vide Infused Margatini

Courtesy of Sharone Hakman www.sharonehakman.com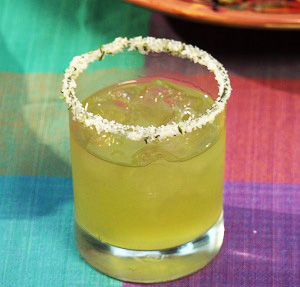 Makes about 24 ounces/750 ml
INGREDIENTS
1 lemon, for zest

1 lime, for zest

1 orange, for zest

3 ounces (90 ml) agave nectar

2 sprigs fresh rosemary

1 fifth (750 ml) silver tequila
INSTRUCTIONS
Fill and preheat the water oven to 165F/74C.

With a sharp vegetable peeler, remove strips of zest from the lemon, lime, and orange.

Put the zest and all remaining ingredients into a large (gallon/3.8 liter) zip-closure cooking pouch and slowly submerge to remove most of the air from the pouch and zip it closed.

Submerge the pouch in the water oven and cook for 30-45 minutes. (The longer you leave it, the more the flavors will intensify.)

Remove the pouch from the water bath and quick chill it, submerged in an ice bath (half ice/half water) for 15 to 20 minutes.

Strain the infusion through a fine mesh sieve and discard the solids.

Pour the infusion into a clean bottle (the tequila bottle works well), recap tightly, and store in the refrigerator until serving.

Serve chilled, straight up or over ice, or with your favorite margarita mixers.