Honey-Glazed Salmon

Serves 4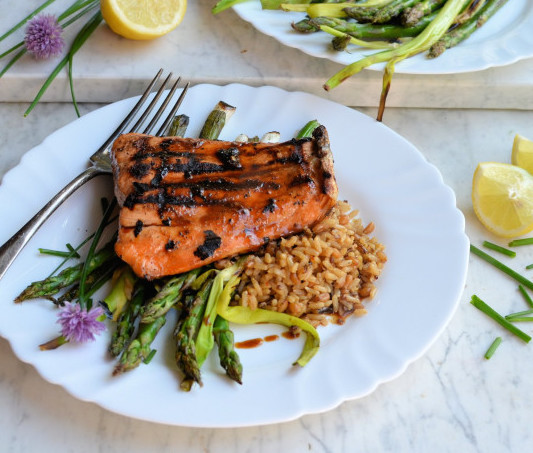 INGREDIENTS
4 (4-ounce/113g) salmon fillets
1 tablespoon (15 ml) olive oil
1 lemon, zest only
salt and pepper to taste
1/4 cup (60 ml) honey
2 tablespoons (30 ml) Dijon-style mustard
1 teaspoon (5 ml) Worcestershire sauce
1 tablespoon (15 ml) butter, melted
INSTRUCTIONS
Fill and preheat the SousVide Supreme to your preferred degree of doneness (116F/47C for rare; 126F/52C for medium rare; 140F/60C for medium.)
Remove skin and pin bones from the salmon, drizzle the fillets with olive oil, sprinkle with salt, pepper, and lemon zest.
Put two fillets, slightly separated, into each of two small (quart/0.9 liter) cooking pouches and vacuum seal.
Submerge the pouches in the water oven and cook for 20 to 30 minutes.
Meanwhile, in a small bowl, combine the honey, mustard, Worcestershire sauce, and melted butter. Set aside.
Remove the pouches and open them. Remove the fillets and pat them dry with paper towels.
Brush the fillets generously with the glaze and sear the exterior with a kitchen torch (or under a preheated broiler) just until the glaze bubbles.
Enjoy immediately with our Butter Lettuce Salad and Citrus Vinaigrette.