Pulled Pork Barbecue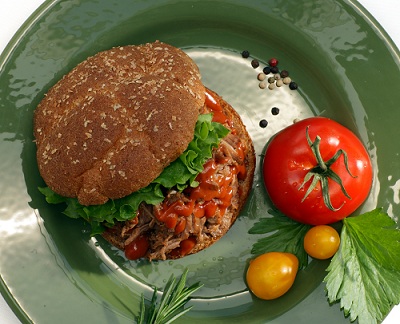 From Sous Vide Barbecue cookbook (Paradox Press 2011)
Serves 12 or more
INGREDIENTS
2 tablespoons (30 ml) chili powder
2 tablespoons (30 ml) paprika
2 tablespoons (30 ml) ground black pepper
2 tablespoons (30 ml) brown sugar
1 teaspoon (5 ml) dry mustard (hot or mild)
1 teaspoon (5 ml) garlic powder
½ teaspoon (2.5 ml) cayenne pepper, or to taste
6 pounds (2.7 kg) pork roast (shoulder or loin)
1 cup (8 ounces/240 ml) barbecue sauce (your favorite)
INSTRUCTIONS
Fill and preheat the water oven to 176F/80C.
Meanwhile, in a small bowl, make a rub for the pork by combining all dry spices and seasonings, mixing thoroughly.
Cover the pork roast on all surfaces with the rub and pat it into the meat.
Put the roast into a large (gallon/3.8 liter) food-grade cooking pouch and vacuum seal it.
Submerge the pouch in the water oven and cook for at least 18 hours and up to 24 hours.
Remove the pouch from the water oven, open it, carefully remove the roast to a platter and let it cool slightly. (Reserve the juices for adding to your favorite barbecue sauce or for making your own.)
Put the barbecue sauce into a small saucepan and warm it on the stove over medium low heat.
Working with a pair of forks (or your fingers) pull the meat into shreds, discarding any bones, if present.
Pile the pulled pork into a large bowl, pour on the barbecue sauce, and toss to coat the meat well.
Serve a pile of meat on a plate with your favorite sides or pile it high on a toasty bun with slaw and more barbecue sauce.