Meat Week Soup

Adapted from The 6 Week Cure for the Middle Aged Middle, Eades and Eades (Crown 2009)
Serves 4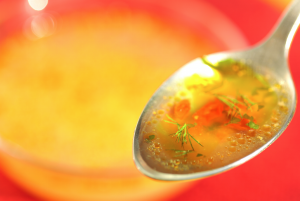 INGREDIENTS
1 leek, washed , trimmed, and chopped
½ head cauliflower, trimmed of leaves and chopped
8 ounces white button mushrooms, sliced
1 quart chicken broth
1 teaspoon salt
½ teaspoon black pepper
½ teaspoon Herbs de Provence
4 cups fresh spinach
2 chicken breasts, cooked sous vide, and diced
INSTRUCTIONS
Fill and preheat the SousVide Supreme water oven to 183F/80C.
Combine all the vegetables in one or more cooking pouches and vacuum seal.
Submerge the pouch(es) in the water oven and cook for an hour.
Remove the pouch(es) and if not using right away, quick chill the pouches in an ice water bath (half ice/half water) for at least 20 minutes and refrigerate.
When ready to assemble, put the broth in a large soup pot, add the seasonings, bring to a boil, add the spinach and cook for 2 to 3 minutes.
Reduce heat, add the cooked chicken and vegetables, and stir to combine.
Serve.