Sea Bass with Edamame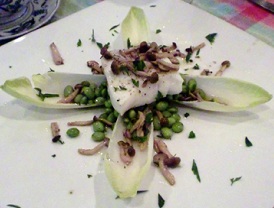 Seabass with Edamame, Endive, and Shimeji Mushrooms
Courtesy of Recipe Contest Winner, Arthur Chang

INGREDIENTS
1 pound (452 g) sea bass filet (halibut and turbot will work well also)
salt and pepper to taste
2 cups (300 g) shelled edamame
olive oil to taste
2 cups (132 g) shimeji mushrooms, chopped to separate them
3 tablespoons (15 ml) butter
1 head endive
2 tablespoons (30 ml) chopped parsley
INSTRUCTIONS
Fill and preheat the SousVide Supreme to 135F/57C (or your preferred temperature for fish.)
Pat the fish dry and season both sides with salt and pepper.
Put the filets into small (quart/0.9 liter) cooking pouch and vacuum seal.
Submerge in the water oven and cook for 30 minutes.
Meanwhile, on the stove top, bring a pot of water to a boil with 2 tablespoons of salt.
Add the edamame and cook for 10 minutes.
While the edamame are cooking, heat 1 ½ tablespoons (22.5 ml) olive oil in a saucepan over medium heat, add the mushrooms and cook for 3 to 4 minutes to soften. Add 2 tablespoons water and continue to cook another 3 minutes.
Stir the butter into the mushrooms and let it melt, coating them
Remove from the edamame from the heat and rinse them with cold water to stop the cooking process.
Season the edamame with salt and a drizzle of olive oil
Remove the fish from the water oven, open the pouch and cut the filet in half.
To plate the dish
Peel some leaves from the endive and arrange 4 of them on the plate.
Brush the leaves with a little olive oil and top with half the edamame, half the mushrooms.
Put half the fish atop the vegetables, sprinkle with chopped parsley and serve.