Traditional Irish Lamb Stew Sous Vide

Serves 6
Time 8-10 hours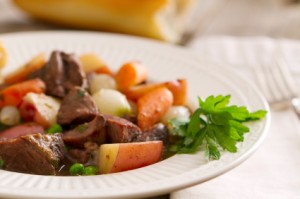 INGREDIENTS
4 tablespoons (120 ml) extra virgin olive oil, divided use
2 pounds (0.91 kg) lamb stew meat, cut into -inch (2.5 cm) chunks
2 tablespoons (30 ml) unsalted butter
4 tablespoons (60 g) flour
2 tablespoons (28 g) minced garlic
1 quart (946 ml) beef stock
1-1/2 pounds (680 g) baby Yukon gold or red new potatoes, halved
16 ounces (454 g) baby carrots (about one bag)
1 cup (230 g) frozen or fresh green peas
2 cans (14.5 ounces/411 g each) stewed tomatoes
4 sprigs fresh thyme
1 sprigs fresh rosemary
2 whole sprigs fresh mint
INSTRUCTIONS
Preheat SousVide Supreme to 185F/85C.
Put 2 tablespoons (60 ml) of the olive oil into a skillet over medium high heat.
When hot, add the stew meat and sear quickly on all sides to give brown the surface; remove meat to a large bowl and set aside.
Add remaining olive oil and the butter to the skillet and heat until the butter has melted.
Add the garlic and cook briefly, but do not brown.
Sprinkle in the flour to make a roux, whisking continuously for about 2 minutes.
Add 2 to 3 cups  (500 ml to 750 ml) of the beef stock and continue to whisk until the pan liquids reach the thickness you prefer for the stew.  Add more or less liquid to your liking.
Add all vegetables and herbs to the stew meat in the bowl and mix well.
Divide all ingredients, including the pan liquid, evenly between two large (gallon/3.8 liter) pouches, press as much air out of the pouch with your hands as possible (or use Archimedes' Principle) and seal only.  (Do not attempt to vacuum seal liquids using a suction vacuum sealer.)
Position the universal pouch rack with slots horizontally to hold the pouches in place so they do not float.  The food in the pouches must be fully submerged to ensure even cooking.
Cook for at least 8 to 10 hours.
Remove stew from pouch to a serving dish.  Remove and discard any herb stalks.
Ladle into bowls and top each serving with a dollop of sour cream or crème fraiche, if desired.