Creamy Pumpkin Soup

Serves 6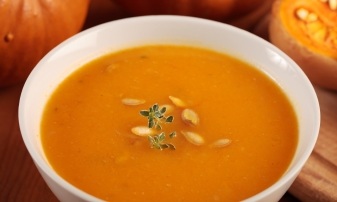 (adapted from Velvety Pumpkin Soup from drseades.com)
INGREDIENTS
1 small (about 8 inches/20 cm) pie pumpkin (make sure it is a pie pumpkin, not a carving pumpkin)
4 teaspoons (20 ml) sugar (or 2 packets Splenda or stevia)
1/2 teaspoon (2.5 ml) coarse salt
1/4 teaspoon (1.25 ml) black pepper
1/8 teaspoon (0.6 ml) ground cinnamon
½ stick (4 tablespoons/56 g) unsalted butter
1 small onion, peeled and chopped
1 clove garlic, peeled and finely minced
2 cups (480 ml) chicken broth
1/2 cup (240 ml) water
2 cups (480 ml) half and half (light cream)
2 tablespoons (30 ml) pumpkin oil, optional garnish
2 tablespoons (30 ml) spicy roasted pepitas (pumpkin seeds), optional garnish
INSTRUCTIONS
Fill and preheat the SousVide Supreme water oven to 180F/82C.
Cut the pumpkin in half and remove the seeds and pith and slice into wedges.  Peel the wedges and chop into 1-inch (2.5 cm) chunks. Sprinkle the pumpkin with the sugar (or sweetener), salt, pepper, and cinnamon.
Put the pumpkin in a single layer into one (or more) cooking pouch(es) and vacuum seal.
Submerge the pouch(es) in the water bath and cook for 1 to 1-1/2 hours, until quite tender.
Meanwhile, in a soup pot over medium heat, melt the butter and sauté the onions and garlic until tender.  Remove from heat and set aside.
When the pumpkin is cooked, remove from the water bath and open the pouch.  Pour the cooked pumpkin into the soup pot and add the broth and water.
Puree all ingredients in the pot with a stick (immersion) blender (or in batches in a food processor or blender and return to the pot) then bring the soup just to a boil and reduce heat to simmer.
Just before serving, whisk in the half and half, taste and adjust salt and pepper, cover and keep warm.
Ladle into bowls and drizzle each serving with a teaspoon (5 ml) of the pumpkin oil and sprinkle with a teaspoon (5 ml) of the roasted pepitas for crunch, if desired.
Here are some time-saving tips…
Prepare the soup through step 8 in advance, pour the finished soup it into a large zip-closure cooking pouch, and use the displacement method (Archimedes' principle) to remove the air.  Return the pouch to the preheated water bath set at 165F/74C to keep warm until you're ready to garnish and serve.
If not planning to serve right away, quick chill the soup in its pouch in an ice water bath for 30 minutes and refrigerate for up to 48 hours.  Reheat for 30 minutes right in the pouch in the SousVide Supreme water bath set to 165F/74C, garnish and serve.