Easiest Caramel Apples Ever

The big day is coming when, according to Peanuts' Linus Van Pelt, the Great Pumpkin will arise from the pumpkin patch and bring toys and treats to all good boys and girls. That means it's time to start thinkin about which tasty treats to make for Halloween night. One of our favorites is caramel apples, which we love for their sweet, sour, salty, crisp, gooey yumminess.

Add to that the fact that we get to count them as a serving of fresh fruit and, if we add nuts, even a bit of protein thrown in, and they come as close to being Halloween health food as you can get! (OK, granted that's a slight stretch, but the field in this category is pretty limited.)
The worst part about making caramel apples is dealing with the caramels. You buy that big bag of them and spend untold frustrating minutes wrestling with the wrappers. Then you melt the caramel in a bowl in the microwave, stirring often, or in a double boiler on the stove, again, stirring often. And then you have a sticky, caramel- coated bowl or pot to deal with at the end.
But there's a better, easier, much less fussy way to go about it: do it with sous vide. You can even do it overnight. Simply begin the process and go to bed; the next day you're ready to dip, roll, and enjoy.
Here's what you'll need and how it works:
Easiest Caramel Apples
Makes 1 dozen
2 cans sweetened condensed milk
1/4 teaspoon (1.25 ml) sea salt or more to your liking
12 baby Granny Smith or gala apples, washed and dried well
12 popsicle sticks or bamboo skewers cut to about 6 inches (15 cm)
10 ounces (283 g) semi-sweet mini chocolate chips for rolling*
10 ounces (283 g) finely diced walnuts for rolling*
(*substitute sugar sprinkles, coconut flakes, mini butterscotch morsels, crushed cookies or your favs)
1. Fill and preheat the water oven to 185F/85C.
2. Pour the sweetened, condensed milk into a small (quart/0.9 liter) zip closure cooking pouch and add the salt.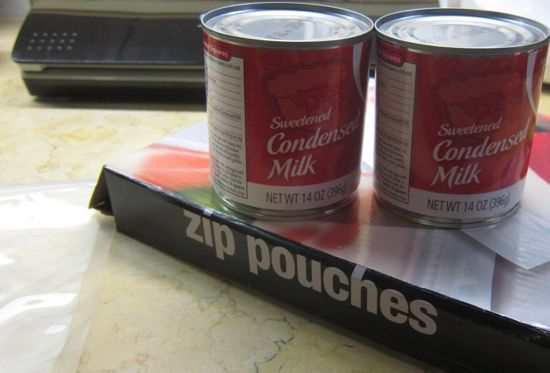 Using a Baggy Rack as your extra set of hands is helpful, both in this step and in the dipping later.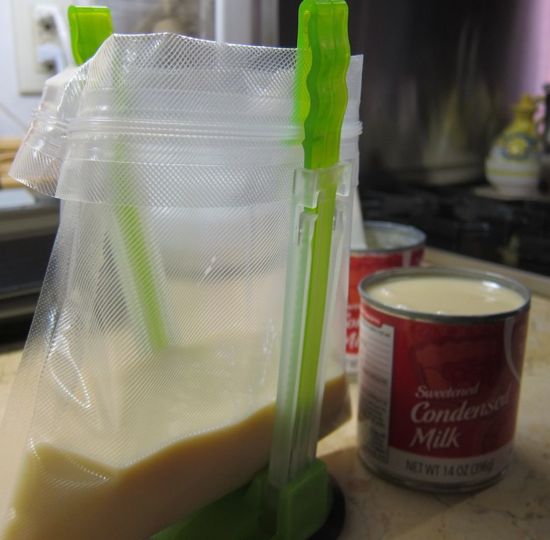 3. Use the displacement (Archimedes') principle to remove the air and zip the pouch closed.
4. Submerge the pouch in the water oven and cook for 13 hours (while you sleep or do something fun)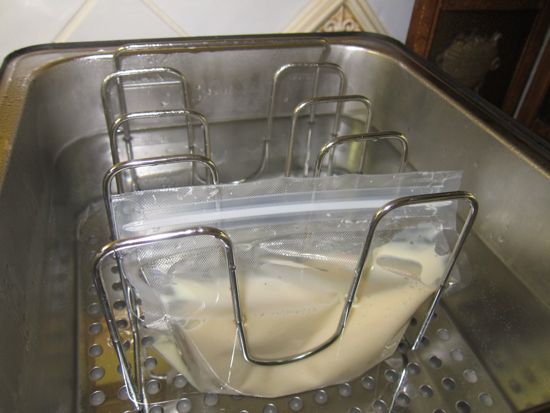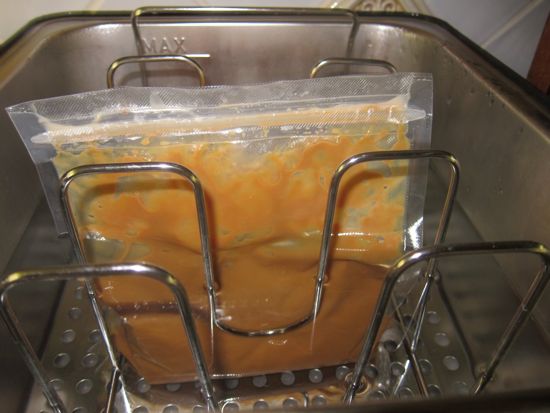 5. When ready to coat, insert one stick into the stem end of each apple and pour the mini chocolate chips, walnuts, or other toppings into separate shallow bowls for rolling.
6. Open the caramel pouch and dip an apple into the caramel. Let the excess drip off and roll the coated apple in the desired topping. Set, stick up, on the wax paper lined baking sheet to dry. Repeat with remaining apples.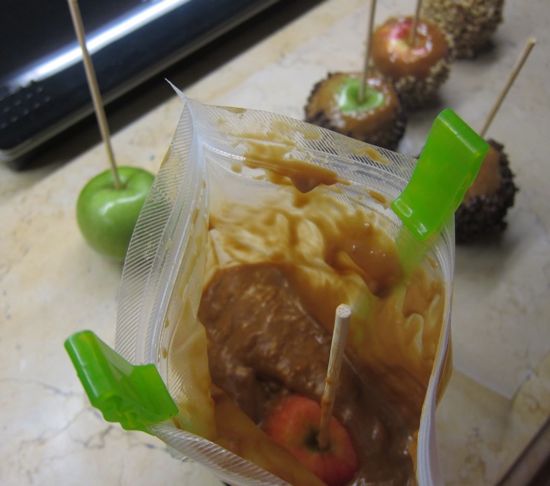 7. Refrigerate to harden and enjoy!