Pearl Onions Sous Vide

with Cinnamon and Bacon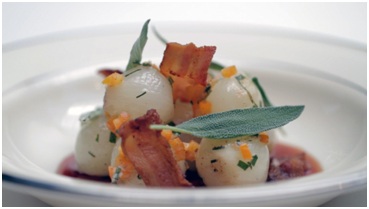 From Sous Vide Holiday (Paradox Press 2010)
Recipe courtesy of Chef Richard Blais
Serves 6 to 8
Ingredients
48 pearl onions, peeled, whole
1 slice (1 oz/ 30 g) bacon
½ teaspoon (.08 oz/2.26 g) ground cinnamon
1 tablespoon (.5 oz/15 g) unsalted butter
Fresh sage leaves, chopped, for garnish, if desired
Fresh thyme sprigs, stripped of leaves, for garnish, if desired
 Instructions
Fill and preheat the water oven to 182–185F (83–85C).
Put all ingredients, except the sage and thyme, into a food-grade plastic pouch and vacuum seal.
Submerge in the water oven and cook for 1 to 1-1/2 hours.
If not serving right away, quick chill the pouch in an ice water bath (half ice, half water) for at least 30 minutes, then refrigerate for up to 48 hours. Reheat in the water bath, along with any other items you may be warming, for 30 to 40 minutes or longer.
At serving time, remove the mixture from the pouch to a warmed serving dish, and finish with a sprinkle of chopped sage and thyme if desired.