Courtesy of Chef Josh Horrigan, The Chef's Academy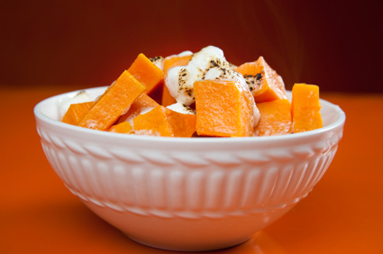 Servings: 4-6 depending on size of ramekin
INGREDIENTS
4 cups (720 g) sweet potatoes, peeled and cubed into ½ inch (1.25 cm) pieces

4 tablespoons (56 g) unsalted butter, cut into small pieces

4 tablespoons (60 ml) brown sugar

1 teaspoon (15 ml) ginger root, finely minced

1 pinch cinnamon

1 pinch cayenne pepper

1 pinch ground clove

salt and pepper to taste

1 cup (50 g) mini marshmallows

1 to 2 tablespoons (15 to 30 ml) brown sugar, optional addition for topping
INSTRUCTIONS
Fill and preheat the SousVide Supreme to 185F/85C.
Put all ingredients, except the marshmallows and brown sugar, into a food-grade cooking pouch and gently massage the pouch to distribute the butter pieces and seasonings throughout.

Vacuum seal the pouch and submerge in the water bath to cook for 1 ½ hours.

Remove the pouch from the water oven, open, and spoon the cooked potatoes into individual ramekins or a large serving dish.

Top the warm potatoes with the marshmallows and sprinkle with a little brown sugar (if desired).

Just before serving, use a kitchen torch (brulee torch) or put under the preheated broiler for a few minutes to toast the toppings until golden and bubbly.  Serve.
Share This Recipe with Friends!