Egg Nog Cheesecakes

Create individual cheesecakes in ramekins
Serves 6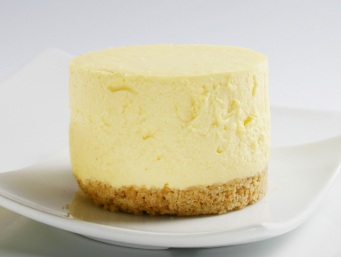 INGREDIENTS
For the crust
1/4 cup (57 g) graham cracker crumbs
1/4 cup  (57g) finely chopped pecans
1/4cup (57 g) light brown sugar (or Brown Sugar Splenda blend)
2 tablespoons (30 ml) melted butter
Butter for greasing ramekins or custard cups
For the filling
12 ounces (342 g) cream cheese, softened
1/2 cup (95 g) sugar (or equivalent sugar substitute)
2 large eggs, at room temperature
1 teaspoon (5 ml) vanilla extract
1 tablespoon (15 ml) brandy or bourbon (or substitute 1 teaspoon rum extract)
1/8 teaspoon (0.6 ml) ground cinnamon
1/8 teaspoon (0.6 ml) freshly grated nutmeg, plus some for garnish
1/4 cup (60 ml) egg nog (commercial or homemade)
1/2 cup (120 ml) sweetened whipped cream, for garnish
INSTRUCTIONS
Fill and preheat the Sous Vide Supreme to 176F/80C. Elevate the bottom perforated rack on a non-rusting baking rack or baking rings.
To set the water level, put the ramekins or custard cups onto the raised platform, fill them with water, then fill the water oven to within 1/2 inch of their rims.
Empty the ramekins, dry them well, and generously grease them with butter.
In a mixing bowl, combine all ingredients for the crust and when thoroughly mixed, divide the mixture evenly among the ramekins and press to cover the bottom and about half-way up the sides.
In a bowl, beat the cream cheese with an electric mixer until smooth.
Gradually add the sugar and continue to beat until fully incorporated and smooth.
Add the eggs, one at a time, scraping down bowl after each addition to ensure a creamy batter.
Slowly beat in the vanilla, brandy, and spices, then the eggnog.
Pour batter into prepared ramekins and cover each one with plastic wrap, secured with a rubber band, to protect from drips of condensation.
Set the ramekins carefully into the water oven, making sure the water level does not rise above their rims.
Cook for 1-1/2 hours, then remove from the water oven, cool to room temperature, then refrigerate for several hours or over night.
Garnish with a dollop of sweetened whipped cream and a grating of fresh nutmeg.