Courtesy of John Tsui (Chinn Chinn, Mattawan, MI)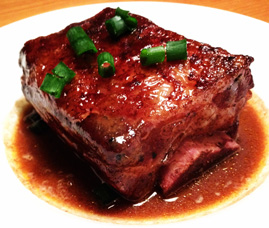 INGREDIENTS
For the short ribs
5 pounds (2.3 kg) short ribs trimmed of excess fat

1 recipe dry rub (follows)

1 recipe wet rub (follows)

2 or 3 scallions, chopped for garnish
For the dry rub
1/2 cup (120 g) salt

1 cup (192 g) sugar

2 tablespoons (30 ml) mild chili powder

1 tablespoon (15 ml) cayenne pepper

1 tablespoon (15 ml) ground cumin

1 tablespoon (15 ml) garlic powder

1 tablespoon (15 ml) onion powder

1 tablespoon (15 ml) ground black pepper

1 tablespoon (15 ml) ground ginger

1 tablespoon (15 ml) Spanish paprika
For the wet rub
1/2 cup (120 ml) soy sauce

1/2 cup (100 g) brown sugar

1/2 cup (120 ml) apple juice

1/4 cup (80 g) chopped garlic (to taste)
INSTRUCTIONS
Rub short ribs with the dry rub mixture; cover and let sit, refrigerated, for up to 24 hours.

When ready to cook, fill and preheat the SousVide Supreme to 142F/61C.
Put the ribs into large (gallon/3.8 liter) cooking pouches and vacuum seal.

Submerge in the water oven and cook for 48 hours.

Once finished cooking, remove ribs from pouches (reserving juices if you want to make a quick sauce – see below.)

Brush the ribs with wet rub (see recipe below), and sear on hot grill for about 1 minute per side, depending on the amount of char you would like.

To make a quick sauce, simply pour the reserved juices from the cooking pouch into a small saucepan, bring to a boil, and reduce by a third. Set aside

For serving, pour the sauce into a shallow bowl, arrange the short ribs on the sauce, top with some scallions, and serve.
Share This Recipe with Friends!