Soy Sauce Chicken Sous Vide

Courtesy of Arthur Chang (siliconvalleysousvide.blogspot.com)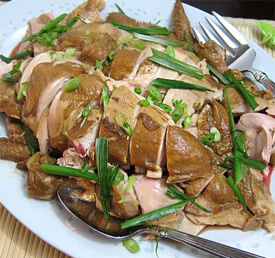 Serves 4
INGREDIENTS
1 whole chicken (giblets removed)
3 coins fresh ginger, sliced julienne
4 cloves garlic, peeled and smashed
3 scallions, cut in 2" (5 cm) pieces
2 star anise
1 cinnamon stick
1/2 cup (120 ml) dark soy sauce
1 tablespoon (15 ml) Shao Xing wine
1 teaspoon (5 ml) ground white pepper
1/4 cup (48 g) sugar
3 cups (720 ml) water
1 or 2 additional chopped fresh scallions for garnish
(You'll also need a heavy meat cleaver.)
INSTRUCTIONS
Fill and preheat the SousVide Supreme or Demi to 148F/ 64.5C.
In a large bowl, make a marinade by combining all ingredients, except chicken, stirring until the sugar is dissolved.
For vacuum sealing:

Put the chicken into a large (gallon/ 3.8 l) vacuum sealable pouch for sealing with a chamber vacuum sealer, pour the marinade over the chicken, and vacuum seal.
Put the chicken into a large (gallon/3.8 l) zip closure cooking pouch, pour the marinade over the chicken, filling the cavity, and seal using the displacement method (Archimedes Principle).

Submerge the pouch(es) in the water oven to cook for 5 hours (to ensure the whole chicken is well cooked.)
Remove chicken from the water bath and let stand (in the pouch) for 10 minutes. (Meanwhile ready your large cutting board and heavy meat cleaver.)
To cut the chicken up for the traditional presentation:

Remove the chicken from the pouch, reserving some of the liquid for sauce.
Separate the legs and wings from the body at the joints.
Using you cleaver, CAREFULLY chop the legs and wings into small pieces, chopping right through the bones. (BE CAREFUL!)
Separate the breasts from the backbone by cutting horizontally from the bottom of the chicken to the neck on either side with poultry shears.
Cut down through the breastbone to separate the breasts and chop them into pieces with the cleaver.

Strain the pouch juices into a sauce pan and warm over medium heat on the stove
For plating, arrange dark meat on the serving platter, place the breast meat on top, drizzle on the sauce made from the pouch juices, and garnish with the scallions.