Vivian's Eye Round Steak Sous Vide

With Fingerling Potatoes, Escarole, and Radicchio
Courtesy of Vivian Peterson of V Top Secret Chef
Serves 3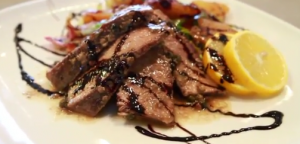 INGREDIENTS
3 (4 to 6 ounce / 114 to 170 g ) eye of round steaks
1/2 teaspoon (2.5 ml) truffle salt
1/2 teaspoon (2.5 ml) ground black pepper
1/2 teaspoon (2.5 ml) whole peppercorns
4 teaspoons (22.5 ml) butter, divided use
1 pound (456 g) fingerling potatoes, quartered
1 tablespoon (15 ml) high smoke point oil (vegetable, grapeseed, lard, ghee)
1 head radicchio, washed and coarsely chopped
1 head of escarole, washed and coarsely chopped
1-2 Meyer lemons, for zest and juice
1 teaspoon (5 ml) balsamic vinegar
1 ounces (28 g) shaved parmesan (optional)
INSTRUCTIONS
For the steaks
Fill and preheat the SousVide Supreme or Demi to correct temperature for desired degree of doneness (134F/56.5 C for medium rare to 140F/60C for medium.)
Season each steak with truffle salt and ground pepper and a teaspoon of butter.
Put the steaks into a cooking pouch, add the peppercorns, and vacuum seal.
Submerge in the water oven and cook for 48 hours (2 days.)
Remove pouch from the water oven and, if not ready to proceed, quick chill the pouch, submerged in an ice water bath for 30 minutes. Refrigerate until ready to proceed. (Rewarm the pouch in the water oven at cooking temperature to reheat.)
To finish, remove the steaks from the pouch, reserving the cooking juices in the pouch.
Heat a lightly oiled skillet over high heat and sear the steaks on both sides about a minute to caramelize their surfaces.
Add the juices from the pouch to the skillet, reduce the heat, and simmer for a few minutes.
For the fingerling potatoes
Fill and preheat (or raise) the temperature of the SousVide Supreme water oven to 180F/82C.
Season the potatoes with salt, pepper, and one teaspoon of the butter; put them into a cooking pouch and vacuum seal.
Submerge the pouch in the water oven and cook for an hour and a half.
Remove the pouch from the water oven, open, and drain off any liquid.
Heat the vegetable oil (or ther oil) in a skillet over medium high heat and pan sear the potatoes for 3 to 5 minutes for extra crispness.
Add the chopped escarole and radicchio and toss to wilt.
Zest the lemons over the potatoes, squeeze the juice over them, and toss to combine.
Plating instructions
Center a mound of the potatoes, escarole, and radicchio on each plate.
Slice the steaks and put the slices over the potatoes.
Top with shaved parmesan, if desired.