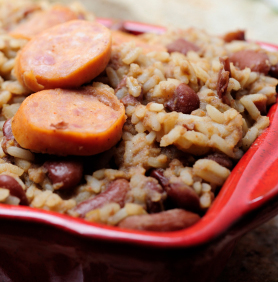 Serves 4
INGREDIENTS
For the red beans
1/2 pound (226 g) dried red beans, soaked overnight, rinsed, and drained

1 quart (0.9 l) vegetable stock or water

1/2 pound (226 g) Andouille sausage, sliced

1/2 pound (226 g) cooked ham steak, diced

1/2 large Vidalia onion, peeled and diced

1/2 bell pepper, peeled, seeded, and chopped

4 cloves garlic, peeled and chopped

1/2 teaspoon (2.5 ml) ground black pepper

1/2 teaspoon (2.5 ml) Creole seasoning

1 chipotle pepper in adobo, chopped
For the rice
1 cup (210 g) medium-grain rice

3 cups (720 ml) mushroom stock

1/2 teaspoon (2.5 ml) sea salt

1/4 teaspoon (12.5 ml) ground black pepper
INSTRUCTIONS
Fill and preheat the

SousVide Supreme

to 183F/84C.

In a skillet over medium heat, brown the sausage and ham, transfer to a paper towel to drain and cool slightly.

In the same skillet, sauté the onion, bell pepper, and garlic until just limp.

Put the beans and vegetable stock into large zip-closure cooking pouch.

Add the sausage, ham, onion, peppers, and garlic; stir in the seasonings and chipotle pepper.

Using the displacement method (Archimedes Principle) remove most of the air from the pouch and zip the seal closed.

Submerge the pouch in the water oven to cook for 3 hours and 45 minutes.

In the last 45 minutes, put the rice ingredients into a large zip-closure cooking pouch and use the displacement method to remove the air from the pouch and zip the seal.

Submerge the rice, alongside the beans, and cook for an additional 45 minutes.

To serve, remove the rice pouch, open and pour the rice into a large serving bowl. Fluff it with a fork to separate the grains.

Remove the beans, open the pouch, and ladle them onto the rice.

Serve in warm bowls with a shake of Tabasco, if desired, and

laissez le bon temps rouler!
Share This Recipe with Friends!