Herb Roasted Spring Lamb Loin

Courtesy of Chef Jason Wilson of Crush, Seattle, WA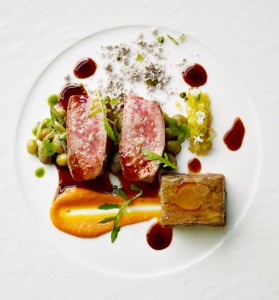 Serves 4
INGREDIENTS
2 pounds (1 kg) spring lamb loin, cleaned of silver skin and fat
2 tablespoons (28 g) Kosher salt
3 tablespoons (45 ml) extra virgin olive oil
3 tablespoons (43 g) unsalted butter
3 tablespoons (45 ml) rosemary leaves
3 tablespoons (45 ml) marjoram leaves
¼ cup (10 g) Italian (flat leaf) parsley
¼ cup (10 g) mint leaves
3 tablespoons (45 ml) chopped chives
1 tablespoons (15 ml) ground fennel seed
1 tablespoon (15 ml) orange zest, grated
1 teaspoon (5 ml) ground cumin
INSTRUCTIONS
Fill and preheat SousVide Supreme to 135F/57C.
Portion the lamb loins evenly into 5-ounce (140g) portions.
In a skillet over medium high heat, sauté the portions until golden brown on all sides; remove to a rack to allow to cool.
Blanche the herbs in salted boiling water. Arrest the cooking in an ice bath and wring dry. Chop the herbs well and blend with the olive oil and dried spices.
Warm the butter with the salt and orange zest. Whisk the two fats (herbed oil and butter) together and pour over the lamb portions in a cooking pouch.
Vacuum seal the loin portions and submerge in the water oven to cook for 25 minutes.
Remove from the pouch and serve with an assortment of your favorite spring vegetables.