Sous Vide Poached Pears

with Port Wine, Cherries and Gorgonzola Cheese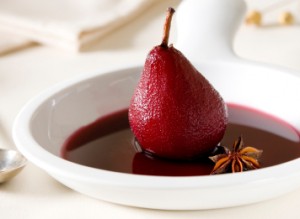 Courtesy of John Biswanger
Serves 4
INGREDIENTS
2 firm, ripe pears, peeled, cored, and halved

4 ounces (112 g) gorgonzola cheese, softened

1/2 cup (66 g) dried cherries, chopped

1/2 cup (120 ml) tawny port

2 teaspoons (10 ml) honey

1 teaspoon (5 ml) pure vanilla extract

1/2 cup (60 g) toasted pecans, chopped and lightly toasted

4 sprigs mint, for garnish
INSTRUCTIONS
Fill and preheat the SousVide Supreme to 165F/ 74C.

In a bowl, mix together the cheese and dried cherries and use one-half of this mixture to fill the cavity of each pear half. (Reserve the remainder to make four mini cheese balls for finishing in step 9.)

In a small bowl, mix together the port, honey and vanilla to make a sauce.

Put one stuffed pear half into each of four ramekins, equally divide the sauce among the ramekins.

Seal each ramekin in a cooking pouch, evacuating just enough air to have the bag make contact with all sides of the ramekin.

Carefully place the ramekins in the pre-heated water oven, making sure to keep them level so the contents of the ramekins does not spill out.

Cook for 3 to 3 ½ hours.

Carefully remove the ramekins from the water and open each pouch.

To serve, place the ramekin on a dessert plate, top each pear with some warm toasted chopped pecans and a ball of the cherry cheese mixture on top. Garnish with a fresh sprig of mint.