Char Siu Vide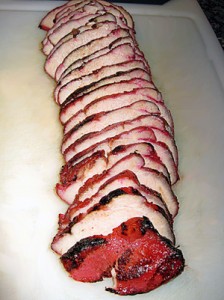 Courtesy of Recipe Contest winner Mark Garetz (www.markiscooking.com)
INGREDIENTS
1 (approximately 1.5 pounds/ 685 g) pork tenderloin

1 package NOH brand Char Siu marinade, dry
1/4 cup (60 ml) honey
INSTRUCTIONS
Rinse the tenderloin and with paper towels, pat dry

Shake the marinade packet well to thoroughly mix the contents.  Use dry; do not mix with liquid.
Sprinkle about 1/3 of the dry marinade onto the tenderloin, covering all surfaces well.  (Save the rest of the packet for a later use)
Put the seasoned tenderloin into a cooking pouch and vacuum seal.
Put the sealed pouch into the refrigerator to marinate for 12-24 hour.
Fill and preheat the SousVide Supreme to 140F/ 60C.
Submerge the cooking pouch in the water oven to cook for 4 hours.
Heat a grill or grill pan to very hot or turn the broiler to high.
Remove pouch from the water bath and the tenderloin from the pouch; Pat the meat dry with paper towels.
Baste all sides with honey and char it on all sides on a very hot BBQ grill or under the broiler.
After charring, baste the top surface again with honey and allow to cool slightly.
Slice and service or use it in your favorite dish.