Peach Bread Pudding Sous Vide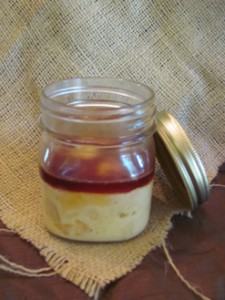 … with Sweet Tea Rum Sauce
Courtesy of MasterChef season one Winner Whitney Miller
Serves 5
INGREDIENTS
For the bread pudding
1 French baguette, crust removed, cut into 1-inch cubes (about 3 cups)
1 cup (240 ml) half-and-half
1/3 cup (80 ml) heavy cream
1 large egg, whole
3 large egg yolks
½ cup (96 g) granulated sugar
1 teaspoon (5 ml) pure vanilla extract
Pinch cinnamon
2 small peaches, diced (or 1 cup frozen slices, thawed and diced)
For the sweet tea rum sauce
1 ¼ cups (305 ml) water
1 tea bag (black unflavored tea)
1 cup (192 g) sugar
1 teaspoon (5 ml) cornstarch
1 tablespoon (14 g) butter
1 teaspoon (5 ml) rum
INSTRUCTIONS
Fill and preheat the SousVide Supreme to 170F/77C. Preheat the traditional oven to 350F/177C.
Put the bread cubes in a single layer on a baking sheet and toast in the traditional oven for 5 minutes.
In a large bowl, whisk together the whole egg, egg yolks, and sugar.
In a small saucepan, over medium heat, combine the half-and-half and heavy cream and heat until tendrils of steam begin to escape the surface.
Whisk the egg mixture constantly as you slowly dribble in some of the hot cream to temper the eggs. Continue to whisk as you add the remainder of the cream.
Stir in the vanilla, cinnamon, and diced peaches.
Fold in the bread cubes and let the mixture sit for 2 minutes or until the bread has absorbed the liquid.
Grease 5 (16 oz.) wide-mouth mason jars with cooking spray.
Divide the bread pudding mixture evenly among the mason jars. Screw on the lids.
Carefully lower the mason jars onto the perforated bottom rack of the water oven and cook for 2 hours.
For the sauce 
In a saucepan over medium high heat, bring the water to a boil. Add the tea bag and boil for 2 minutes. Remove from the heat and discard the tea bag.
Reduce the heat to medium, return the saucepan back to the heat and add the sugar, stirring until dissolved. Continue to cook for 3 minutes.
In a small bowl, combine a teaspoon of water and the cornstarch. Stir this slurry into the sweet tea and cook for 2 minutes over medium-high heat, whisking constantly.
Stir in the butter and rum and continue to cook for 3 minutes. Remove from the heat and allow to slightly thicken.
Serving
When the pudding has cooked, carefully transfer the mason jars from the water bath to the SousVide Supreme lid with tongs. Allow the jars to cool for 3 or 4 minutes, then using a tea towel, remove the jars' lids and spoon the sauce over the pudding. Serve immediately.