Adapted from Easy Sous Vide (Paradox Press 2011)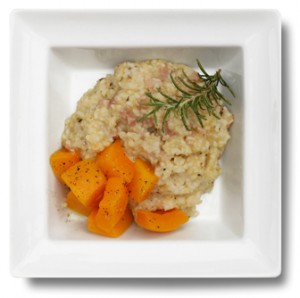 Serves 4
Hands on time: 3 minutes
Sous vide cooking time: 40 minutes
INGREDIENTS
1 cup (3 ounces/90g) Arborio rice
3 cups (720 ml) vegetable or mushroom broth
½ teaspoon (2.5 ml) butter
2 cans (4 ounces/113 g each) mushroom stems and pieces, chopped
1 sprig fresh rosemary, leaves minced
salt and pepper to taste
1 pound (16 ounces/454 g) Sous Vide Spring Vegetables, diced (warm)* (recipe follows)
Freshly grated Parmesan cheese, for serving
INSTRUCTIONS
Fill and preheat the water oven to 183F/83C.
Put all ingredients, except cooked vegetables and cheese, into a zip-closure cooking pouch.
Use the displacement principle (Archimedes principle) to seal the pouch.
Submerge the pouch and cook for 40 minutes.
Open the pouch, pour into a serving bowl, and fluff with a fork. Top with the cooked vegetables.
Divide among serving bowls, sprinkle with Parmesan cheese and enjoy!
*Sous Vide Spring Vegetables
Serves 4
1 pound (16 ounces/454 g) spring vegetables (asparagus, broccoli, peppers, summer squash) cut into bite sized pieces, peeled if necessary
Salt and pepper to taste
1 to 2 tablespoons (15 to 30 ml) butter (optional)
fresh or dried herbs of choice (optional)
1. Fill and preheat the water oven to 183F/83C.
2. Season the vegetables lightly with salt and pepper and herbs if desired.
3. Put the vegetables into a cooking pouch, add the butter, and vacuum seal.
4. Submerge (along with the rice) and cook for 40 minutes.
5. Open pouch, drain liquid, and serve or use in the risotto above.
Share This Recipe with Friends!