Serves 4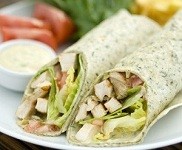 This recipe is part of our "Weeknight Meals in Minutes" series. The staple ingredients can be prepared in advance, then used to create easy, delicious weeknight meals that are ready in minutes.
STAPLE INGREDIENTS – previously prepared
1 pouch (of 2) boneless, skinless chicken breasts, cooked, thawed if frozen
ADDITIONAL INGREDIENTS
Olive oil
4 cups romaine lettuce, chopped
4 tablespoons (60 ml) Caesar dressing, commercial
4 tablespoons (60ml) grated Parmesan cheese
1 handful of seasoned croutons, crushed
4 large tortilla wraps
1 lemon
4 large fresh pears or apples, washed, sliced and rubbed with lemon
1 bunch red or purple seedless grapes, washed
INSTRUCTIONS
Put the romaine in a large bowl; add the dressing, cheese, and crushed croutons, and toss to mix and coat evenly with the dressing.
Heat an oiled grill or grill pan to high heat.
Remove the breasts from their pouch, pat them dry, drizzle a bit of olive oil on the surface, and sear quickly on one side to add grill marks and a bit of smoky flavor.
Slice the breasts diagonally.
Lay a tortilla flat on the counter, center one quarter of the salad greens on it, top with slices of chicken, fold the side nearest you over the contents, fold the right and left sides in over that, and roll, burrito style. Secure with a toothpick. Repeat with remaining tortillas. (Wrap in parchment paper, if desired, for mess-free handling.
Cut the wraps in half and serve with the fresh fruit.
Share This Recipe with Friends!