Easy Weeknight Beef Stew

Serves 4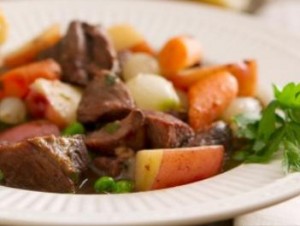 This recipe is part of our "Weeknight Meals in Minutes" series. The staple ingredients can be prepared in advance, then used to create easy, delicious weeknight meals that are ready in minutes.
STAPLE INGREDIENTS (previously prepared)
1 pouch cooked flank steak

1 pouch cooked potatoes

1 pouch cooked carrots
ADDITIONAL INGREDIENTS
2 tablespoons (30 ml) olive oil

1 clove garlic, peeled and minced

1 small yellow onion, peeled and sliced

1 bay leaf

2 tablespoons (30 ml) flour

1 quart (0.9 liters) beef broth

1 cup (128 g) frozen green peas

1 cup (128 g) frozen corn kernels

4 sourdough mini-loaves

butter
INSTRUCTIONS
Preheat the traditional oven to 200F/93C.

Wrap the sour dough loaves in aluminum foil and put them into the oven to warm.

Open the pouches of steak, potatoes, and carrots.

Cut the flank steak into bite-size cubes and set aside.

In a soup pot over medium heat, warm the oil and sauté the bay leaf, garlic and onions until the onions are translucent.

Add the flank steak and brown on all sides, a couple of minutes.

Sprinkle the flour over the pan and continue to cook for a minute, stirring frequently, to cook the flour.

Add the beef broth slowly, whisking constantly to prevent lumps from forming.

Add the corn, peas, potatoes, and carrots and bring just to a boil. Reduce the heat to low and continue to cook to heat the vegetables and meat thoroughly, about 10 to 15 minutes.

Serve the stew with warm sourdough bread and butter. Add a salad, if desired.