Serves 4
This recipe is part of our "Weeknight Meals in Minutes" series. The staple ingredients can be prepared in advance, then used to create easy, delicious weeknight meals that are ready in minutes.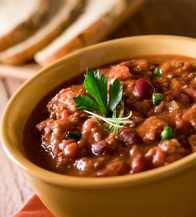 STAPLE INGREDIENTS (previously prepared)
1 flank steak, cooked sous vide, thawed if frozen, diced to ½-inch
ADDITIONAL INGREDIENTS
3 tablespoons (45 ml) rendered bacon fat or oil

1 small onion, peeled and diced

1 clove garlic, peeled and minced

2 tablespoons (30 ml) chili powder

1 tablespoon (15 ml) smoked paprika

1 tablespoon (15 ml) ground cumin

1 teaspoon (5 ml) garlic powder

1 teaspoon (5 ml) onion powder

1 can (14.5 ounces/411 g) black beans, drained

1 can (14.5 ounces/411g) dark red kidney beans, drained

1 can (4 ounces/113g) fire-roasted, diced green chile, mild or hot

1 can (28 ounces/795g) tomato sauce

1 quart (0.9 liters) beef broth 4 dashes Tabasco hot pepper sauce, or to taste

4 tablespoons (30 g) shredded Mexican cheese blend
INSTRUCTIONS
Warm the fat or oil in a soup pot over medium heat.

Sauté the onions and garlic until translucent.

Add the diced flank steak and all the dry seasonings and stir to coat the meat.

Add the kidney beans, chiles, tomato sauce, and beef stock.

Raise the heat to medium high and bring just to a boil.

Reduce heat and simmer for 10 to 15 minutes or until ready to serve.

Taste for heat level and adjust with additional hot pepper sauce if desired. Garnish with cheddar cheese and serve.
Share This Recipe with Friends!