Easy Weeknight Steak Fajitas

Serves 4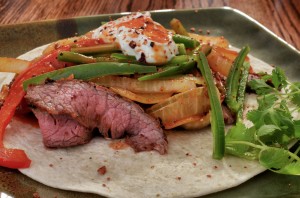 This recipe is part of our "Weeknight Meals in Minutes" series. The staple ingredients can be prepared in advance, then used to create easy, delicious weeknight meals that are ready in minutes.
STAPLE INGREDIENTS (previously prepared)
1 pouch flank steak, cooked, thawed if frozen
1 pouch peppers and onions, thawed if frozen
ADDITIONAL INGREDIENTS
2 tablespoons (30 ml) fajita seasoning
10 to 12 small flour tortillas
1/2 small head iceberg lettuce, shredded finely
2 tomatoes, seeded and diced
1 avocado, peeled and sliced and doused with lime juice 2 limes
4 tablespoons (60ml) sour cream
INSTRUCTIONS
Fill the SousVide Supreme with hot tap water (for faster heating) and preheat it to 134F/56.5C.
Drop the pouches of flank steak and peppers and onions into the water oven to reheat for 20 minutes.
Put the tortillas, flat, into a large (gallon/3.8 liter) cooking pouch, vacuum seal them, and drop them into the water oven with the meat and vegetables to warm.
Meanwhile, preheat an oiled griddle or large skillet over medium high heat.
Remove the flank steak from its pouch and sprinkle both sides liberally with the fajita seasoning.
Sear the flank steak on both sides (about 30 seconds to 1 minute per side) to caramelize the surface.
Remove the meat to a cutting board and let it rest for 5 minutes, then slice it down the center lengthwise, then on the diagonal into 1/2-inch (1.2 cm) wide strips.
Open the pouch of peppers and onions and drain away any liquid.
Arrange the meat, vegetables, lettuce, avocado, and tomatoes on a platter.
Serve with the warm tortillas and sour cream.