Chicken with Spanish Rice and Veggies

Serves 4
This recipe is part of our "Weeknight Meals in Minutes" series. The staple ingredients can be prepared in advance, then used to create easy, delicious weeknight meals that are ready in minutes.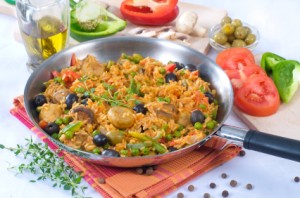 STAPLE INGREDIENTS  – previously prepared:
1 pouch (of 2) boneless, skinless chicken breasts, cooked, thawed if frozen
1 pouch cooked rice
1 pouch cooked peppers and onions
ADDITIONAL INGREDIENTS:
2 tablespoons olive oil
4 cloves garlic, peeled and minced
1 teaspoon smoked paprika
Salt and pepper to taste
1 can (2.25 ounces/64 g) sliced black (ripe) olives, drained
1 cup (240 ml) tomato sauce
2 tablespoons (30 ml) chopped fresh parsley
4 cups (188 g) salad greens and your favorite dressing
INSTRUCTIONS
Remove the chicken from the pouch and dice the breasts.
In a large skillet over medium heat, warm the olive oil; add the garlic and paprika and sauté until the garlic is translucent, about 2 minutes.
Add the chicken, salt and pepper, and stir to coat with the seasoned oil.
Stir in the rice, cooked peppers and onions, including any liquid in the pouch.
Add the black olives and tomato sauce, cover; reduce heat to medium low and simmer for 5 minutes, stirring occasionally, until heated through.
Sprinkle with the fresh parsley and serve with a green salad, if desired.