Sous Vide French Toast

Courtesy of Recipe Contest Winner Adam Fields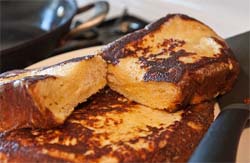 Serves 4
INGREDIENTS
8 eggs

3/4 cup (240 ml) milk

1 splash vanilla

1 pinch salt

2 large pieces day-old challah

2 tablespoons (28 g) unsalted butter, for frying
INSTRUCTIONS
Fill and preheat the SousVide Supreme to 147F/ 64C.

In a bowl, mix eggs, milk, vanilla, and salt until well blended.

Put two slices of challah into a small (quart/0.9 liter) zip-closure cooking pouch and pour in the egg mixture.

Close the zipper seal of the pouch and shake to completely coat the slices with the egg mixture, then remove the air with a Zip Sealer for valve pouches or open the pouch and use

the displacement method (Archimedes Principle)

to remove the air from zipper pouches without a valve and zip the seal closed.

Submerge the pouch(es) and cook for 60-90 minutes.

Melt butter in a skillet on medium high heat.

Remove from cooked bread from the pouch(es) and fry in the melted butter.

Slice each piece in half and serve hot with maple syrup, powdered sugar, and fresh fruit.