With potatoes and peppers
Serves 4
The staple ingredients can be prepared in advance, then used to create easy, delicious weeknight meals that are ready in minutes.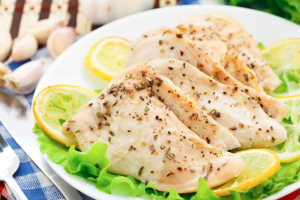 STAPLE INGREDIENTS – previously prepared
2 pouches (4 total) skin-on chicken breasts, cooked, thawed if frozen
1 pouch cooked potatoes
1 pouch cooked peppers and onions
ADDITIONAL INGREDIENTS
3 tablespoons butter
2 sprigs rosemary and/or thyme, chopped (or a pinch of dried herbs)
Salt and pepper, to taste
1 clove garlic, peeled
INSTRUCTIONS
Fill the SousVide Supreme with hot tap water and preheat to 160F/71C.
Take the pouches of chicken, potatoes, and peppers from the refrigerator (or freezer) and drop them together into the water oven to warm for 20 minutes from refrigerated (40 minutes from frozen.)
Meanwhile, preheat the traditional oven broiler to high heat.
In the microwave or a pan on the stove, melt the butter, season with salt and pepper to taste, and add the herbs of your choice and the garlic. Set aside.
Remove the pouches of chicken from the water bath, open the pouches, and pat the breasts dry with a paper towel. Transfer them, skin side up, to an ovenproof pan.
Liberally brush the skin of the chicken with the herbed butter and put the chicken under the broiler for 6 minutes to brown and crisp the skin.
When the chicken is golden, remove it from the oven to serving plates.
Open the pouches of potatoes and peppers and spoon them directly onto the plates beside the chicken.
Serve and enjoy!
Share This Recipe with Friends!