Maple Soy Cured Sous Vide Salmon Belly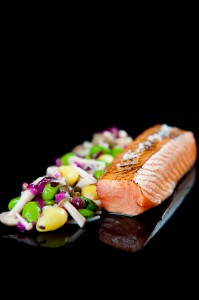 Courtesy of Stephane Lemangnen (zencancook.com)
Serves 4
INGREDIENTS
For the cured salmon belly
1 pound (454 g) King salmon belly
1/4 cup (60 ml) dark amber maple syrup
1/4 cup (60 ml) soy sauce
For the stir-fry and soy ginger vinaigrette
4 ounces (114 g) soy beans, blanched
4 ounces (114 g) boiled peanuts
4 ounces (114 g) shimeji mushrooms
pickled eggplant
salt and pepper to taste
¼ cup (60 ml) rice vinegar
3 tablespoons (45 ml) maple syrup
¼ cup (60 ml) soy sauce
1– inch (2.5 cm) piece fresh ginger – peeled and finely grated
½ cup (120 ml) peanut oil
To finish the dish
1 charcoal grill
Binchō-tan charcoal
Fleur de sel
INSTRUCTIONS
First, cure the salmon belly

Combine the soy sauce and the maple syrup in a small bowl.
Put the salmon belly into a cooking pouch or zip-closure bag and pour the mixture over it.
Seal the pouch and marinate, refrigerated, for 24 hours.

When ready to cook, fill and preheat the SousVide Supreme to 122F/50C.
Remove the salmon from the marinade; discard the marinade.
Put the salmon belly into a clean cooking pouch and vacuum seal. (Vacuum on low if your sealer has this setting.)
Submerge the pouch in the water and cook for 20 minutes.
Meanwhile, prepare the stir-fry and soy ginger vinaigrette:

In a stir-fry pan heat some peanut oil.
In a bowl, combine the blanched soy beans, the boiled peanuts and the shimeji mushrooms.
Season with salt and pepper and stir-fry for 30 seconds.
Add the pickled eggplant (found at Japanese stores) and cook for a few seconds more.
Keep warm.
Combine the rice vinegar, the maple syrup, the soy sauce and the grated ginger in a small bowl. Add the peanut oil and whisk until emulsified. Set aside.
To finish the dish:
Prepare a charcoal grill outdoors or in a very well-ventilated place.
When the fire has subsided and the coals are red hot place a grill on top.
Grill the salmon on the hot coals until nicely caramelized on the outside.
Sprinkle with fleur de sel.
Serve with the soy bean stir-fry and the soy-ginger vinaigrette on the side.