Courtesy of Tom and Linda Ryalls of SVKitchen.com
Serves 4 as an appetizer or 2 as a main course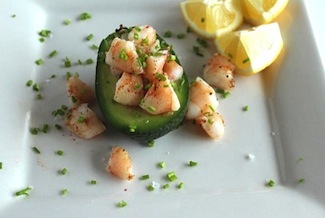 INGREDIENTS
1 vanilla bean

12 ounces (12 large/300 g) shrimp, peeled and deveined

1/4 teaspoon piment d'Espelette (or substitute paprika or cayenne)

1 pinch sea salt

1 pinch pepper

1/2 stick (2 ounces/ 56 g) salted butter, cut into 2 or 3 pieces

Chives, finely minced, optional garnish
INSTRUCTIONS
Fill and preheat the SousVide Supreme to 136F/58C.
Split vanilla bean in half and scrape out the seeds. (Retain the pod, if you'd like, and add it to a canister of sugar to impart a delicate vanilla flavor.)
In a medium bowl, combine the vanilla seeds, shrimp, pimente d'Espelette, salt, and pepper.
Put the shrimp into a large (gallon/3.8 liter) cooking pouch, add the butter to the pouch and vacuum seal.
Submerge the pouch in the water oven and cook for 30 minutes.
Remove shrimp from pouch and serve, garnished with minced chives
Three great ways to serve:
transfer the shrimp along with the bag juices to a platter and serve with crusty bread
spoon atop an avocado half (shown)
toss with some hot buttered pasta
Share This Recipe with Friends!