Tandoori Chicken Sous Vide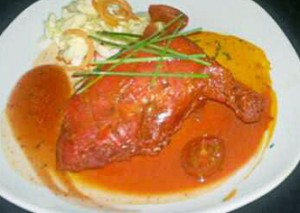 Courtesy of Recipe Contest Winner Sam Hussain
INGREDIENTS
1 (2 pound/1 kg) chicken, legs  and breast removed, skin scored
For the marinade
5 or 6 tablespoons (75 to 90 ml) natural yogurt

1tablespoon (15 ml) ground panch poran spice mix

1 teaspoon (5 ml) dried methi leaves

Pinch (about 1/4 teaspoon/1.25 ml) salt

1 teaspoon (5 ml) lemon juice

1 tablespoon (15 ml) Kashmiri massala

2 tablespoons (30 ml) tandoori paste

3 tablespoons (45 ml) tikka paste

1 tablespoon (15 ml) blended garlic and ginger

3 to 4 tablespoons (45 to 60 ml) vegetable oil

1 tablespoon (15 ml) garden mint

2 teaspoons (10 ml) red food coloring (optional)
INSTRUCTIONS
In a large bowl, mix all ingredients for marinade well.

Blot the chicken pieces well with a paper towel to remove most of the moisture.

Add the chicken pieces to the marinade mixture, coating them well all over, so that the spice mixture will penetrate the chicken.

Cover the bowl with cling film  (plastic wrap) and leave to marinate for minimum of 2 to 3 hours or preferably overnight in the refrigerator.

Fill and preheat the SousVide Supreme to 134F/57C.
Remove the chicken from the marinade and put the pieces into a large (gallon/3.8 liter) cooking pouch in a single layer and vacuum seal, taking care not to pull the marinade coating up into the suction chamber.

Submerge the pouch and cook for 1 and1/2 hours

When the cooking time has almost elapsed, preheat a well-oiled  grill or grill pan over high heat.

Remove the chicken from the pouches and sear over high heat for 30 to 45 seconds per side to impart color, flavor, and grill marks.

Serve with fresh mix salad and wedge of lemon on each plate.