Recipe courtesy of Michael LaRoche, Head Butcher and Chef for Bill the Butcher
Serves 4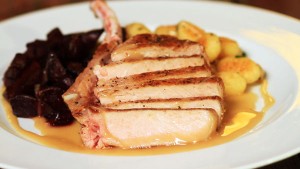 INGREDIENTS
4 bone-in pork chops
Salt and pepper to taste
4 sprigs fresh thyme, finely chopped
1 lemon sliced
Olive oil
INSTRUCTIONS
Fill and preheat the SousVide Supreme to 138F/59C.
Season the pork chops with salt, pepper, and finely chopped fresh thyme. Drizzle on a bit of olive oil and put 1 or 2 chops into a cooking pouch with fresh lemon slices.
Vacuum seal each pouch, submerge in the water oven, and cook for 6 hours.
Remove chop(s) from the pouch, pat dry, and sear the surface to caramelize on grill, on a high heat cast iron pan, or with a cooking torch.
Suggested serving sides: glazed beets & gnocchi in brown butter
SousVide Supreme Meats Bill the Butcher – Pork Chop from SousVide Supreme on Vimeo.
Share This Recipe with Friends!