Bill the Butcher's Sous Vide Pork Tenderloin

Recipe courtesy of Michael LaRoche, Head Butcher and Chef for Bill the Butcher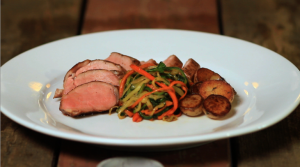 INGREDIENTS
1 whole pork tenderloin
Seasoning Rub
Butter
INSTRUCTIONS
Fill and preheat SousVide Supreme to 135F/56.5C.
Rub the tenderloin with your favorite seasoning rub then put into a cooking pouch.
Add a pat of butter and vacuum seal.
Submerge the pouch in the water oven to cook for 3 hours.
Remove from the pouch and sear the surface to caramelize on grill, on a high heat cast iron pan, or with a cooking torch.
Suggested serving sides: Zucchini & Carrot noodles.
SousVide Supreme Meats Bill the Butcher – Pork Tenderloin from SousVide Supreme on Vimeo.