Sous Vide Western Griller

Recipe courtesy of Michael LaRoche, Head Butcher and Chef for Bill the Butcher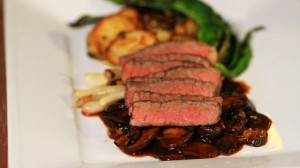 Makes 1 to 2 servings, depending on appetite, but make as many pouches as you like!
INGREDIENTS
3/4 to 1 inch (2 to 2.5 cm) thick Western griller steaks, cut from bottom round
Olive oil (about 1 tablespoon/15 ml per steak)
Garlic, peeled and finely chopped (about 1 clove per steak)
Fresh thyme, chopped (about 2 sprigs per steak)
Salt and pepper to taste
DIRECTIONS
Fill and preheat SousVide Supreme to 130F/54.5C. (Or to your preferred degree of doneness.)
In a small bowl, mix together the olive oil, garlic, and thyme.
Season the steak(s) with salt and pepper, then put each into a cooking pouch; add the olive oil mixture and vacuum seal.
Submerge the pouch(es) in the water oven and cook for at least 24 hours and up to 48 hours.
Remove steak(s) from the pouch(es) and sear the surface to caramelize on grill, on a high heat cast iron pan, or with a cooking torch.
Suggested serving sides:  parsleyed potatoes, flowering broccoli, mushroom demi glace.
SousVide Supreme Meats Bill The Butcher – Western Griller from SousVide Supreme on Vimeo.