Pork Belly Sliders with Pickled Cabbage

Courtesy of Chef Stephane Lemagnen of Zen Can Cook
Serves 6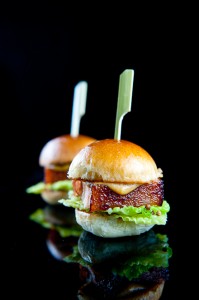 INGREDIENTS
For the pickled cabbage
1 small savoy cabbage
1/4 cup (60 ml) maple syrup or honey
3/4 cup (180 ml) white vinegar
1/4 cup (60 ml) olive oil
1 teaspoon (5 ml) coriander seeds, toasted
1/2 teaspoon (2.5 ml) mustard seeds, toasted
For the brioche buns
1 envelope dry active yeast (about 2 1/2 teaspoons/12.5 ml)
1/2 cup (120 ml) whole milk, warm
2 -1/4 cups (250 g) all-purpose flour (plus some for kneading)
6 tablespoons (85 g) unsalted butter
3 tablespoons (45 ml) sugar
1/2 teaspoon (2.5 ml) salt
2 large eggs
For the pork belly
INSTRUCTIONS
For the picked cabbage
Remove the tender leaves from the cabbage and steam until cooked but still a bit crunchy. Cool in ice water.
Whisk the maple syrup, the white wine vinegar and the olive oil in a bowl. Add the toasted coriander and mustard seeds.
Drain the steamed cabbage and add to the pickling liquid. Refrigerate for at least an hour, or better overnight.
For the brioche bun
In small bowl, whisk yeast into milk, then stir in about half of the flour. Cover with plastic wrap and set aside.
Put butter, sugar, and salt in the bowl of a food processor fitted with metal blade. Pulse, scraping sides of bowl several times, until mixture is soft and smooth.
Add eggs, one at a time, and process after each addition until incorporated.
Add remaining flour and the yeast/flour mixture and pulse, scraping sides of the bowl with a rubber spatula until you have a soft, smooth dough. Then process continuously for 15 seconds.
Turn the dough onto generously floured work surface and knead until smooth and elastic.
Preheat oven to 350F/175C.
Shape little buns on a floured surface and place on a baking tray lined with a silpat.
Let the buns rise until doubled in volume (cover the tray loosely with buttered plastic wrap or a slightly wet towel).
Bake for 20 minutes or until golden.
For the pork belly and finish
Follow desired recipe for pork belly.
Combine the Dijon mustard and maple syrup to taste.
Grill, roast or pan-fry slices of pork belly
Split the brioche buns in half and toast the cut side.
Assemble the sliders with the brioche buns, pickled cabbage, pork belly and maple mustard.