Pork Belly with Watermelon and Serrano Vinaigrette

Courtesy of Chef James Briscione, instructor at Institute of Culinary Education, New York
Serves 4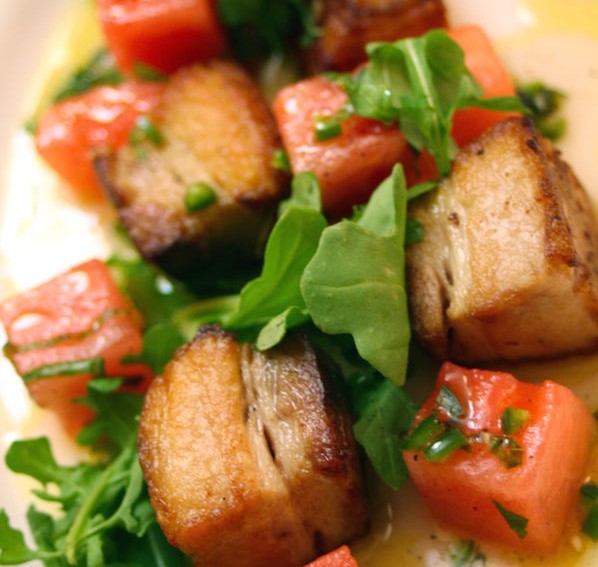 INGREDIENTS
For the brine
6 ounces (180 ml) soy sauce
1/2 cup (92 g) packed brown sugar
1/4 cup (60 g) kosher salt
1/2 head garlic, cut in half
2 scallions, roughly chopped
1 knob (about 2 inches/ 5 cm) ginger, sliced
8 cups (1.9 liters) ice water
1-1/2 pounds (0.7 kg) pork belly
Fresh arugula or watercress for serving
For the Serrano-Mint Vinaigrette
1 ounce (30 ml) lime juice
1/2 Serrano chile, trimmed, seeded (if desired), and minced
2 teaspoons (10 ml) fresh mint leaves, chiffonade
3 tablespoons (45 ml) olive oil
2 cups (480 g) diced watermelon
Salt and pepper to taste
INSTRUCTIONS
For the brine
Combine all brine ingredients, except the water, in a saucepot and bring to a boil. Simmer 5 minutes to infuse flavor, then remove from the heat.
Stir in the ice water.
Put the pork belly into a large (gallon/3.8 liter) zip closure bag and add enough brine to cover completely.  Zip the seal and refrigerate overnight. (Reserve excess brine for another use.)
Fill and preheat the SousVide Supreme to 162F/72C  (or for a quicker cooking alternative preheat to185F/85C.)
Remove the pork belly from the brine, pat dry, and vacuum seal in a cooking pouch.
Submerge the pouch in the water oven and cook for 12 hours (at the lower temperature) or 4 hours (at the higher temperature.)
Remove from the bath and, if not using immediately, chill thoroughly in the pouch in an ice water bath (half ice, half water) for at least one hour.
For the Serrano-Mint Vinaigrette
Combine the lime juice, Serrano, and mint in a small bowl. Set aside for 15 minutes for flavors to develop.
Whisk in the olive oil.
Add the watermelon and toss to coat.
Season with salt and pepper to taste.
To serve
Reheat the pork belly in its pouch in the water oven set at 154F/68C for about an hour.
Cut the belly into cubes and sear well on all sides in a hot skillet or with a kitchen torch.
Transfer to a serving plate and spoon the watermelon vinaigrette over the meat.
Garnish with arugula or watercress.