Lemongrass Chicken Wings

Courtesy of home cooks Tom & Linda Ryall of SV Kitchen
Serves 4, or up to 8 as an appetizer or part of a larger meal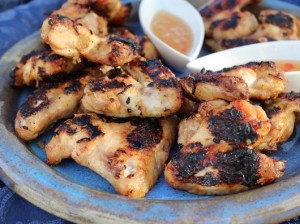 INGREDIENTS
4 pounds (1.8 kg) whole chicken wings
5 stalks lemongrass
4 cloves garlic, peeled and thinly sliced
3 Thai bird chiles or serrano chiles, thinly sliced (de-seed them if you prefer less heat)
3 medium shallots, peeled and thinly sliced (about  ⅓ cup)
2 tablespoons (30 ml) palm or white sugar
2 tablespoons (30 ml) Asian fish sauce
1 tablespoon (15 ml) fresh lime juice
Zest of one lime
½ teaspoon (2.5 ml) sea salt or kosher salt
Nuoc Cham (for dipping, optional)
INSTRUCTIONS
Fill and preheat the SousVide Supreme to 152F/67C.
Remove the tips from the wings and save for stock. Put the chicken wings into a large bowl and set aside.
Discard the root ends, upper half (green part) of stalks, and 1 or 2 tough outer leaves of the lemongrass; bruise the stalks with a knife or cleaver and slice thinly.
Combine the lemongrass, garlic, chiles, shallot, and sugar in a mortar or blender and pound or blend until the mixture is a thick paste.
Add the fish sauce, lime juice, lime zest, and salt; whisk to combine.
Transfer the paste to the bowl with the chicken and mix until the wings are evenly coated.
Arrange half the chicken wings in a single layer in each of 2 large (gallon/3.8 liter) zipper cooking pouches. Remove the air from the pouches using the Archimedes' Principle (displacement method) and zip the seals.
Submerge the pouches in the water oven and cook for 2 hours.
If you plan to finish the chicken on a barbeque or outdoor grill, light the coals or preheat the grill 15 to 20 minutes before removing the chicken from the water bath. We like to heat only half of the grill so we can move the wings around as they cook to prevent burning.
Remove the bags from the water oven and allow to cool for a few minutes, then transfer the chicken to a platter or cookie sheet, discarding the pouch juices.
Sear the wings, skin-side down, on the hot grill until the skin is browned and crisp, about 3 to 4 minutes.
Turn and cook on the other side for 2 to 4 minutes. (To finish the wings under a broiler, preheat the broiler for 5 to 10 minutes; broil until the skin is brown and crisp, a few minutes per side.)
Serve hot, with Nuoc Cham for dipping, if desired.
Pro tip: If you don't plan to finish and serve the chicken right away, remove the pouches from the water oven and quick-chill them, submerged in an ice-and-water bath, adding more ice as necessary, then refrigerate the pouches until ready to use.