Caramel Apple Rice Pudding

Serves 6
INGREDIENTS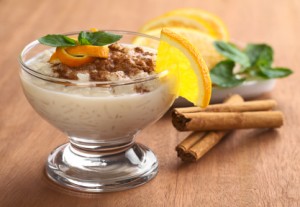 2 tablespoons (28 g) unsalted butter
3 apples (Fuji or Gala or your favorite cooking apple) peeled, cored, and diced
1 cup (90 g) Arborio rice
1/2 cup (75 g) golden raisins
1 teaspoon (5 ml) ground cinnamon
1/2 teaspoon (2.5 ml) ground ginger
1/4 teaspoon (1.25 ml) salt
1-1/2 cups (360 ml) half and half cream
1 cup (240 ml) milk1/2 cup (120 ml) Torani Caramel (or Sugar-Free Caramel) Syrup
Whipped cream, for garnish (optional)
INSTRUCTIONS
Fill and preheat the SousVide Supreme to 183F/84C.
Put all ingredients into a large (gallon/3.8 liter) zip-closure cooking pouch, and use the displacement method (Archimedes' principle) to remove the air and zip the seal closed.
Submerged the pouch and cook for 45 minutes.
Open the pouch, fluff with a fork, and serve in warm bowls with a dollop of whipped cream, if desired.