Chef Raymond Blanc's "Grilled" Turbot

With Caramelised Fennel and Red Wine Sauce
Courtesy of Chef Raymond Blanc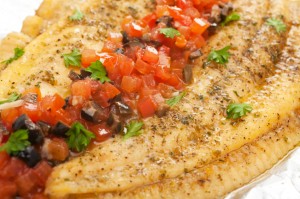 Serves 4

INGREDIENTS
For the turbot
4 (5 ounce/150g) turbot steaks, cut through the bone
3 pinches (3 g) sea salt
2 pinches (2 g) white pepper, freshly ground
For the fennel flames
1 small fennel bulb, cut into quarters through the root
1 clove garlic, crushed
1 pod star anise
2 pods cardamom
2 pinches (2 g) salt
1 pinch (1 g) black pepper
For the red wine sauce
4 ounces (120g) flat fish bones, chopped to 1-1/2 inches (3 cm)
2 tablespoons (28 g) butter, unsalted
1 small (about 60g) banana shallot, peeled and finely sliced
1-1/2 cups (100g ) button mushrooms, finely sliced
1 cup (250ml) red wine, boiled quickly and reduced by half
12 ounces (350ml) brown chicken stock, boiled quickly and reduced by half (see
recipe)
¼ pod star anise
½ licorice root, chopped
½ clove garlic, crushed
1 teaspoon (5 ml) arrowroot, dissolved in 1 tablespoon (15 ml) water
INSTRUCTIONS
For the fennel flames
Fill and preheat the SousVide Supreme to 185F/85C.
Put the fennel flames, seasonings, and spices into a cooking pouch and vacuum seal.
Submerge the pouch and cook for 1 hour, until tender.
Remove the pouch from the water bath and set aside to drain and to cool to room temperature before draining on to a tray and pat dry.
In a large frying pan over medium high heat, caramelise the flames in 2 tablespoons of olive oil for 2-3 minutes until golden on one side.
Season and leave them to cool in the pan until needed.
For the turbot
Fill and preheat the water bath to 131F/55C (or if already heated for fennel, cool bath down with ice or cold water).
Season the turbot with the salt and pepper.
On a very hot griddle pan sear the flesh of the turbot for 35-45 seconds on either side to give dark hash marks.
Put the fillets into small (quart/0.9 liter) cooking pouches and vacuum seal.
Submerge the pouch in the water oven and cook the fish for 30 minutes.
While the turbot is cooking, make the red wine sauce.
For the red wine sauce
Over medium heat in a large non-stick sauté pan, fry the fish bones in the butter for 2 minutes until lightly golden.
Add the shallots and mushrooms and continue to cook for 5 minutes.
Add the remaining ingredients, bring to the boil, reduce heat to low and gently simmer for 10 minutes, skimming any impurities that rise to the surface.
Stir in the diluted arrowroot, and allow it to thicken for one minute.
Taste and adjust the seasoning.
Strain through a fine sieve, and reserve at room temperature until needed.
To finish and serve
Pre-heat the traditional oven to 300F/150C.
Put the fennel flames into the oven for 4 minutes to heat through. Re-warm the red wine sauce in a small sauce pan on the stove.
Remove turbot from the pouch.
To dress the plate
Arrange some of the fennel flames on the plate.
Top with the fish.
Spoon the sauce in and around the plate.
Additional notes from Chef Blanc
You could use a cast iron grilling pan on the flesh of the fish, this will give you a lovely criss-cross effect, but this is only optional. It will also introduce a wonderful, smoky flavour. The fish must be completely dry and the grill very hot or it will stick.
Tips for roasting the cardamom pods: By roasting the nuts and seeds you accentuate the flavours and also destroy some of the negative nutritional compounds known as phytates that can block the absorption of certain nutrients in the gut. By soaking the seeds and then dry roasting them you increase the flavours and improve the texture.
Variation: A simple tomato jus with garlic, basil and thyme would also work very well with this dish in place of the red wine sauce.