Christmas Pudding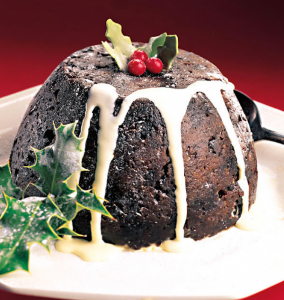 Adapted from Saveur (saveur.com)
Makes 2 puddings
INGREDIENTS
2 tablespoons (28 g) butter, for greasing bowls
2 cups (300 g) quality assorted raisins
2 cups (480 ml) brandy
1 1⁄2 ounces (42 g) quality assorted candied fruits
5 tablespoons (72 g) cold butter (or, traditionally, beef suet) diced
1 3⁄4 cups (105 g) fine day-old bread crumbs
1 cup (85 g) blanched almond meal
1⁄4 cup (50 g) dark muscovado sugar
3 tablespoons (19 g) flour
2 tablespoon (10 g) shredded unsweetened coconut
2 tablespoons (10 g) finely grated peeled carrot
1⁄2 teaspoon (2.5 ml) finely grated lemon zest
1⁄4 teaspoon (1.25 ml) finely grated orange zest
Pinch ground cinnamon
Pinch freshly grated nutmeg
1 egg
1⁄2 teaspoon (2.5 ml) dark molasses (or, traditionally, treacle)
1⁄3 cup (80 ml) Guinness stout
2 tablespoons (30 ml) fresh orange juice
3⁄4 teaspoon (7.5 ml) fresh lemon juice
Hard Sauce, for serving (recipe follows)
For the hard sauce (Makes 1-1/2 cups) 
1 ½ sticks (12 tablespoons/172g) unsalted butter, room temperature
3⁄4 cup (144 g) sugar
4 tablespoons (60 ml) brandy
INSTRUCTIONS
Elevate the bottom, perforated rack of the SousVide Supreme on a non-rusting baking rack and fill the water oven to at least the fill line.
To properly fill the water bath to the correct level:
fill two glazed-ceramic or glass bowls (about 3 inches/7.5 cm deep and 5 inches/12.5 cm wide) with water
set the bowls on the rack inside the water bath
add enough water to the water bath to bring the water level up to within 1/2 inch/1.25 cm of the rim of the bowls.
remove the bowls, empty, dry well, and grease liberally with butter. Set aside.

Preheat the SousVide Supreme to 195F/90.5C.
Macerate the raisins in brandy for 1 hour. Drain, reserving 1⁄3 cup of the brandy.
Put raisins, candied fruits, butter, bread crumbs, almond meal, sugar, flour, coconut, carrots, citrus zests, cinnamon, and nutmeg into a large bowl and stir well.
Beat the egg and molasses in another bowl and stir in beer, juices, and reserved brandy.
Add the egg mixture to the fruit and dry ingredients and combine until evenly moist.
Pack half the batter into each of the prepared bowls.
Insert each filled bowl carefully into a cooking pouch and vacuum seal just until the pouch begins to draw down toward the surface of the batter then force the seal.
Set the bowls into the water oven and cook for 6 hours.
Remove bowls from the oven and set them in their pouches into an ice water bath to quick chill for 30 to 45 minutes.
Remove the bowls from the pouches and unmold the puddings.
Put each pudding into a new cooking pouch and vacuum seal (do not crush).
Store the puddings in the refrigerator overnight or up to two weeks.
To reheat puddings, drop the pouch into the water oven, set at 195F/90.5 C for 1 hour.
Serve warm, topped with Hard Sauce (recipe follows).
For the hard sauce
In a mixing bowl, beat the butter and sugar together on medium speed until light and fluffy.
Add the brandy and continue to beat, until thoroughly combined.
Transfer the sauce to a serving bowl and serve at room temperature or refrigerate until hard, then serve.