Sous Vide Slow Cooked Marinated Pork Belly

Courtesy of Chef Raymond Blanc
Serves  4-6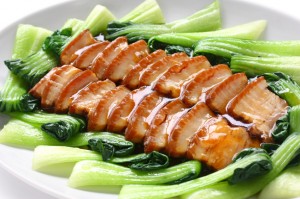 Planning ahead:
The belly can be cooked 1 day in advance and caramelized to order.
INGREDIENTS
2-1/2 pounds (1 kg) pork belly, ribs removed by your butcher, oven ready
For the marinade
1 scant teaspoon (4 g) sea salt
1 stalk fresh lemongrass, bruised and halved lengthwise
2 pinches (2 g) groung white pepper
3 pinches (3 g) five spice powder
1 tablespoon (15 g) new season garlic, crushed
2 teaspoons (10 g) fresh ginger, peeled, chopped
1 red chile, deseeded and finely chopped
For the cabbage
3-1/2 cups (350 g) spring pointed cabbage, sliced into 1/4-inch (5 mm) strips
2-1/2 tablespoons (35 g) butter, unsalted
6 ounces (200 ml) water
1 pinch (1 g) sea salt
1 pinch (1 g) black pepper
To finish:
A little soy sauce and toasted sesame oil, to taste (optional)
2 tablespoons (30ml) rapeseed oil
INSTRUCTIONS
For the pork
Fill and preheat the SousVide Supreme to 185F/85C.
Combine the marinade ingredients together in a bowl.
Rub the marinade into the flesh side of the belly.
Put the belly into a large (gallon/3.8 liter) cooking pouch and vacuum seal.
Submerge the pouch in the water oven and cook for 5 hours.
Remove the pouch from the water bath and allow to cool.
Press the pouch* between two oven trays (put a weight on top) and refrigerate.
For the cabbage
In a large sauce pan (12inch/30cm) with lid, over medium heat, add the cabbage, water, butter and seasoning to make a light emulsion.
Cover with the lid and cook for 5-7 minutes, until the cabbage is tender.
Strain off any excess juice and reserve.
For the sauce of the cooking juices from the pork
Open the pork belly and strain the cooking juices into a saucepan.
Add 3-1/2 ounces/100ml of water to dilute slightly and bring to a boil.
Taste and adjust the seasoning with salt and pepper. You can also add a little soy sauce and toasted sesame oil to taste, if you'd like.
To finish the dish
Preheat the traditional oven to 350F/180C.
On the stovetop, over medium heat, in a small skillet with an ovenproof handle, add the rapeseed oil and gently crisp belly in the oil for 10-15 minutes.
Transfer the skillet to the oven to finish cooking for 10 minutes.
To serve
Serve the pork belly sitting on the cabbage in a large bowl with a ladle of the cooking juices poured over the top.
You could also serve all the belly, cabbage and cooking juices in the roasting pot placed in the center of the table.