Sous Vide Sweet Potatoes Foster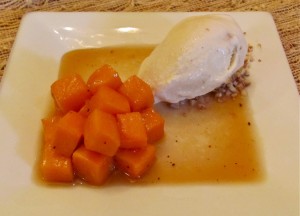 Courtesy of MasterChef's Whitney Miller
Serves 4
INGREDIENTS
For the potatoes
1 cup (200 g) sweet potatoes, peeled and diced to 1/2-inch (1.3 cm)

2 tablespoons (30 ml) unsalted butter

3-1/2 tablespoons (52.5 g) light brown sugar

Pinch ground cinnamon

1 teaspoon (5 ml) fresh orange juice

1-1/2 tablespoons (22.5 ml) rum
For the salted pecans
1/2 cup (60 g) pecan halves

1/8 teaspoons olive oil

Pinch sea salt

1-1/2 quarts (1.4 liter) butter pecan ice cream
INSTRUCTIONS
Fill and preheat the SousVide Supreme to 183F/84C.
Put the potatoes into a large (gallon/3.8 liter) cooking pouch in a single layer and vacuum seal them.
Submerge the pouch in the water oven and cook for 1-1/2 hours.
Preheat the traditional oven to 350F/176C.
Meanwhile, prepare the salted pecans.

On a baking sheet, drizzle the pecans with the oil and salt and toss to coat.
Bake for 4 minutes.
Remove pecans from the oven and allow them to cool.
When cool, transfer pecans to a cutting board and chop into fine pieces.

When the potatoes have finished cooking, remove the pouch from the water bath, open the pouch, drain the liquid, and set potatoes aside until ready to use.
In a skillet, over medium heat, melt butter in a medium non-stick skillet.
Sprinkle the sugar and cinnamon over the butter and when the sugar begins to dissolve, add the sweet potatoes.
Add the orange juice to the skillet and continue to cook for 1 to 2 minutes, flipping sweet potatoes over to coat in sauce.
Carefully add the rum and ignite it with a flame from the gas stove or with a stick lighter.
Cook for 1 to 2 minutes until flames subside and sauce slightly thickens.
For the assembly
Place a 3-inch (7.5 cm) square or round cookie cutter or ring mold on the corner of a dessert plate.
Immediately spoon the cooked sweet potatoes (without the sauce) into the mold and carefully remove the mold.
On the opposite side of the plate, arrange a tablespoon (15 ml) of salted pecan pieces.
Using two spoons, shape ice cream into a quenelle and place it atop pecan pieces.
Spoon a pool of the sauce around the sweet potatoes.
Serve immediately.