Cranberry and Walnut Stuffed Turkey Breast Dinner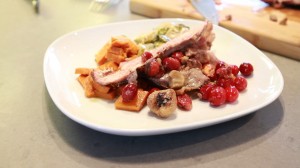 Courtesy of Vivian Peterson of  V Top Secret Chef 
Serves 4 to 6
INGREDIENTS
For the turkey breast
2 pounds (0.9 kg) turkey breast, skin on
1 teaspoon (5 ml) applewood smoked sea salt
Freshly cracked pepper to taste
1 teaspoon (5 ml) nutmeg
1 teaspoon (5 ml) ground cinnamon
1/4 cup (29 g) chopped chestnuts
1/4 cup (25 g) cranberries
pinch sea salt
4-5 toothpicks
1 tablespoon (14 g) rendered bacon fat (save the fat from the sprouts, below)
1 tablespoon (14 g) pasture butter
For the brussels sprouts
8 pieces nitrate-free bacon, cooked crisp and crumbled
2 pounds (0.9 kg) Brussels' sprouts, washed, trimmed and sliced in half
1/2 cup (120 ml) heavy cream
pinch of salt and chili flakes
For the yams
4 garnet yams, peeled
2 tablespoons (28 g) pasture butter
2 tablespoons (25 g) light brown sugar
1 teaspoon (5 ml) ginger
Salt and pepper to taste
Fresh pomegranate seeds, for garnish, if desired
INSTRUCTIONS
For the brussels sprouts and yams
Fill and preheat the SousVide Supreme to 185F/85F.
Put all brussels sprouts ingredients into a zip-closure cooking pouch and seal using the displacement method (Archimedes Principle), remove the air and zip seal. (If using a standard vacuum seal pouch and suction vacuum, take care not to allow the liquid to enter the suction portal.)
Submerge the pouch in the water oven to cook for 1-1/2 hours.
Cut garnet yams into round slices, about 1/2-inch (1.3 cm) thick.
In a small bowl combine the butter and spices.
Put the yams and butter mixture into a cooking pouch and vacuum seal.
Submerge in the water oven along with the Brussels' spouts and cook for 1 and 1/2 hours.
When the vegetables have cooked, drop the temperature of the water oven to 140F/60C for the turkey. You may leave the vegetables in the water oven to stay warm (they won't over cook) or remove the pouches from the water oven and submerge them in an ice water bath (½ ice and ½ water) for 20 to 30 minutes and refrigerate until 30 minutes before serving.
For the turkey breast and serve
Rub the skin of the turkey breast with applewood smoked sea salt and fresh cracked pepper.
In a small bowl, mix together the chestnuts, cranberries, cinnamon, nutmeg and a pinch of the salt.
Gently stuff the seasoning mixture under the turkey breast skin and pin down with toothpicks, so that it secures it tightly.
Heat a skillet over high heat; melt a tablespoon of bacon fat in it and sear the turkey breast, skin side down, in the pan until it is golden brown.
Let it cool slightly, put it into a cooking pouch with the butter, and vacuum seal it.
Submerge the pouch in the water oven to cook for at least 4 hours.
(If reheating the vegetables, put them into the water oven with the turkey for at least 30 minutes.)
When the turkey has cooked, remove it from the pouch, and pat dry with paper towels.
Heat a skillet on the stovetop and sear the breast once again to get the skin crispy.
Remove toothpicks and let the meat rest for 5 minutes before slicing into it.
Brussels' sprouts and yams are good to go straight from the pouch. Simply pour into a serving bowl.
Garnish the plate with a few scattered fresh pomegranate seeds for a festive holiday touch!