Michael Ruhlman's BBQ Sous Vide Beef Short Ribs

Courtesy of Michael Ruhlman (www.ruhlman.com)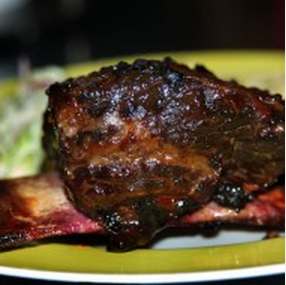 INGREDIENTS
8 meaty beef short ribs (or however many you're serving)
Salt and pepper to taste
Barbecue sauce of your choice
INSTRUCTIONS
Fill and preheat the SousVide Supreme to 140F/60C.
Give the ribs a generous seasoning of salt and pepper
Put them into a cooking pouch and vacuum seal them well .
Submerge in the water oven and cook for 48 hours, give or take.
If you are not going to finish them right away, submerge the pouch in an ice bath until thoroughly chilled, at least 20 minutes or more.
To finish, remove them from the pouch and allow them to come to room temperature (if serving a large crowd, leave in pouch and re-sous vide at 120˚F/48˚C for 30 minutes).
Slather them with barbeque sauce and grill till charred and smokey and beautiful, a couple minutes on each side on a hot grill.
You can also broil them to caramelize the BBQ sauce if you don't have a grill.
Use one rib per serving.