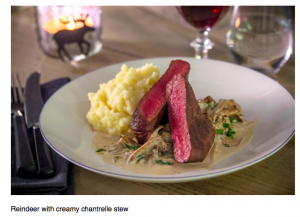 Recipe courtesy of Lars Ringnes (SousVide Norge)
4 servings
INGREDIENTS
2 pounds (800 g) inside round of reindeer

1 teaspoon (5 ml) salt

1/2 teaspoon (2.5 ml) pepper

2 tablespoons (28 g) butter
For the potato and celeriac mash
1-1/2 pounds (750 g) potato, peeled and diced

1-1/2 pounds (750 g) celeriac, peeled and diced

3 ounces (85 g) butter

1/2 cup (120 ml) milk

1 clove garlic, peeled and finely minced

1/4 teaspoon (1.25 ml) ground nutmeg

1/2 teaspoon (2.5 ml) salt

1/4 teaspoon (1.25 ml) pepper
For the creamy chanterelle stew 
1 cup (60 g) chanterelles, cleaned and sliced

2 medium onions, peeled and sliced into thick wedges

2 tablespoons (28 g) butter

1 cup (240 ml) single cream

1/2 teaspoon (2.5 ml) salt

1/4 teaspoon (1.25 ml) pepper

2 tablespoons (5 g) chopped flat leaf parsley
INSTRUCTIONS
Fill and preheat the SousVide Supreme to 135F/57C.
Put the meat into a cooking pouch and vacuum seal it.

Submerge the pouch in the water oven to cook for 2 hours

Meanwhile, make the mash:

On the stove top, put the potatoes and celeriac into a large pan of cold, unsalted water, making sure the water covers them by about 1 inch (2.5 cm); bring to a boil and cook until fork tender, about 20 to 25 minutes.
Drain the vegetables and return to the hot pan to let them steam dry, stirring occasionally to avoid their burning.
Mash the potatoes and celeriac with the butter, adding the milk until the mash has a smooth consistency.
Season with minced garlic, nutmeg, salt and pepper. Keep warm.

While the potatoes are boiling, cook the chanterelles and onions on a medium heat with the butter until limp; let simmer for about 5 minutes. Season with salt and pepper and add chopped parsley just before serving.

Remove the meat from the water oven and pouch, pat it dry with a paper towel, and season with salt and pepper.

Heat a skillet on the stove top to high heat and sear the meat on all sides (or use a kitchen torch if you have one.

Cut the meat into steaks and plate atop the mash and stew.
Share This Recipe with Friends!