Recipe courtesy of Pam McKinstry (svkitchen.com)
Serves 2 to 4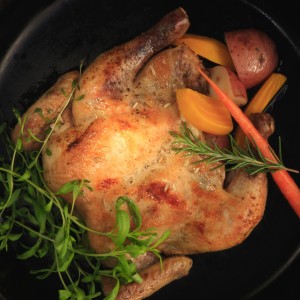 INGREDIENTS
2 Cornish game hens (1-1/2 pounds/ 709 g) each
4 large cloves garlic confit
1 generous teaspoon (5 ml) finely minced
Preserved Lemon
2 tablespoons (30 ml) fennel pollen
Kosher or sea salt and freshly ground black pepper to taste
2 tablespoons (60 ml) unsalted butter, cut in half
Olive oil
INSTRUCTIONS
For the hen
Fill and preheat the SousVide Supreme to 155F/68C.
Mash the garlic confit with the preserved lemon to make a paste.
Spread half the paste on one of the birds, rubbing it on both the skin side and the cavity side. Repeat with the second hen.
Sprinkle half the fennel pollen on both sides of one of the birds and liberally season with alt and pepper. Repeat with the second hen.
Put each hen into its own large (1 gallon/3.8 liter) cooking pouch and vacuum seal.
Submerge the pouches in the water oven and cook the hens for at least 5 hours and up to 8 hours.
When ready, remove the pouches from the water oven and open them immediately, being careful to retain all the cooking juices. Set the hens aside and let them rest for 10 to 15 minutes.
For the sauce and finish
In a small saucepan over medium heat, cook the accumulated juices from the cooking pouches until they are reduced by half.
Keep the sauce warm while you finish the hens on a hot grill or in a hot skillet. (Sear a few minutes just to give a golden caramelization to the skin.)
Just before serving, whisk one piece of the butter into the warm sauce. When it has melted, whisk in the remaining piece.
Arrange the hens on a serving platter; pour over the reduced sauce, and serve.
Share This Recipe with Friends!