Lamb Chops with Garlic and Fresh Herbs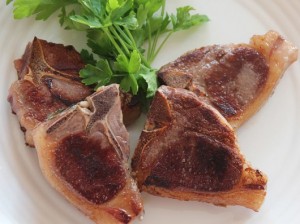 Recipe courtesy of Tom and Lynda Rydall (svkitchen.com)
Serves 2 (recipe easily doubles or triples)
INGREDIENTS
4 (3-ounce/84g) bone-in loin lamb chops

2 teaspoons (10 ml) peeled and sliced garlic

4 sprigs fresh thyme (each about 2 inches/5 cm long)

1 fresh bay leaf

1 tablespoon (15 ml) fresh parsley

1 teaspoon (5 ml) fresh oregano

8 black peppercorns

1 tablespoon (14 g) butter

Sea salt
INSTRUCTIONS
Fill and preheat the water bath to 132F/56C.
Put the lamb, garlic, herbs (no need to chop the herbs), peppercorns, and butter into a cooking pouch and vacuum seal.
Submerge the pouch and cook for 2 hours (or up to 4 hours).
Remove the chops from the pouch and pat dry, discarding the herbs, garlic, and peppercorns. Season with salt to taste.
Heat a cast iron skillet on high until very hot.
Sear the chops for about 30 seconds on each side to brown.
Serve as is, or dress up with a pat of compound butter or your favorite sauce.