Mulled Wine Sous Vide

Makes about 12 servings
Ingredients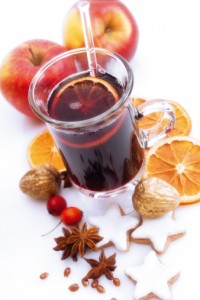 2 cups (480 ml) apple cider
1 cup (240 ml) orange juice
1 (750 ml) bottle full bodied red wine, such as Zinfandel or Cabernet Sauvignon
1/4 cup (60 ml) honey
2 cinnamon sticks
1 teaspoon (5 ml) whole cloves
1 teaspoon (5 ml) whole allspice
2 oranges, sliced thinly, for garnish
Instructions
Fill and preheat the SousVide Supreme to 137F/58C
Put all ingredients into a large (gallon/3.8 liter) zip closure pouch and, using the displacement method (Archimedes' Principle) remove the air from the pouch and zip the seal.
Submerge the pouch to cook for 1 hour.
Strain the wine through a fine mesh sieve into a pretty punch bowl, float the orange slices atop, and serve, hot.
If not serving immediately, strain and return to the cooking pouch, zip the seal and quick chill in an ice bath (1/2 ice, 1/2 water) for 20 minutes and refrigerate until ready to reheat in the water oven (137F/58C for 30 minutes) or on the stovetop.
Serve garnished, if desired, with a thin slice of orange floated atop the wine.